RTI A/V Distribution Products Integrate with Company's Control Systems
The newly announced RTI A/V distribution products include a selection of switches, extenders and scalers to enable integrators to handle a variety of A/V needs.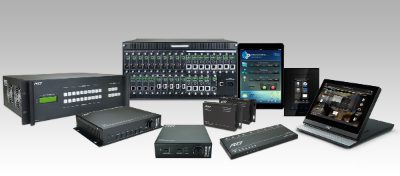 Known for its line of control solutions for residential and commercial environments, the newly announced RTI A/V distribution solutions expands the company's array of electronics for integrators.
RTI points out that its new A/V distribution products provide integrators with the ability to tightly integrate with its control products. The A/V distribution line includes switches, extenders, presentation scalers, and audio mixer amplifiers.
"RTI control systems offer the customization, processing power and integration options that are essential in commercial projects," says Mike Everett, vice president of global sales, RTI.
"The addition of our line signal management products expands the RTI ecosystem and gives our dealers a complete solution for tightly integrated control and A/V distribution."
The new A/V distribution products can be specified to form complete end-to-end solutions, providing the ability to be installed into residential and commercial systems.
RTI A/V Distribution Products Support 4K Signal Transmission
Utilizing HDMI and HDBaseT technologies, the A/V distribution products are engineered to transmit 4K throughout a property.
The VHD-4 and VHD-8 HDBaseT video matrix switchers transmit video, IR, and RS-232 signals as far as 230 feet over a single Cat-5e/6 cable. Both matrix switchers incorporate cross-point switching and HDMI to support 4K at 60Hz content delivery.
Supporting corporate, education, and retail installations, the VFX-124 and VFX-248 matrix switchers offer integrators a blend of fixed outputs and open slots—12 and 24 each respectively—and each are configurable as inputs or outputs depending on the application.
Related: RTI Acquires Miravue A/V-over-IP Solution
Moreover, the VFX and VFX-248 matrix switchers are further supported by a choice of HDMI, HDBaseT, VGA, audio input and output cards.
Another product in the company's A/V distribution solutions line is the VSS-51 Presentation Scaler Switcher Kit. RTI says this product delivers a combination of seamless switching and the latest in scaling technologies to provide quality images regardless of the quality of the source components.
The VSS-51 Presentation Scaler Switcher Kit complements conference room, home office, or education installations, as it is capable of accepting a range of video formats and includes a microphone input.
Augmenting the capabilities of the matrix switches and HDMI switchers is a full selection of extenders, splitters, and wall plates that RTI says can be used by integrators to help complete a range of installation needs.