High-quality A/V maker McIntosh has announced a pair of new flagship digital source components; the MCD600 SACD/CD Player and the MS500 Music Streamer.
The Binghamton, N.Y.-based brand, which has developed a loyal following from audio enthusiasts and installers over the years, used a similar faceplate and chassis design to help the new components blend in with any rack of McIntosh gear.
MS500 Streams Spotify, TIDAL, More
McIntosh's flagship streamer has been created to be sophisticated, but easy to use and integrate into home audio systems and networks.
The Linux-based MS500 combines both Internet-based music streaming services, including TIDAL and Spotify, and locally stored digital music, including lossless files with up to 24-bit/192kHz resolution, into one device.
McIntosh says its MS500 is able to deliver ultra-quiet operation thanks to two key features: local music and the operating system being stored on a durable 500GB solid-state drive (SSD) with no moving parts, and a new fan-less processor (combined with improved ventilation) eschews the need for those noisy cooling fans.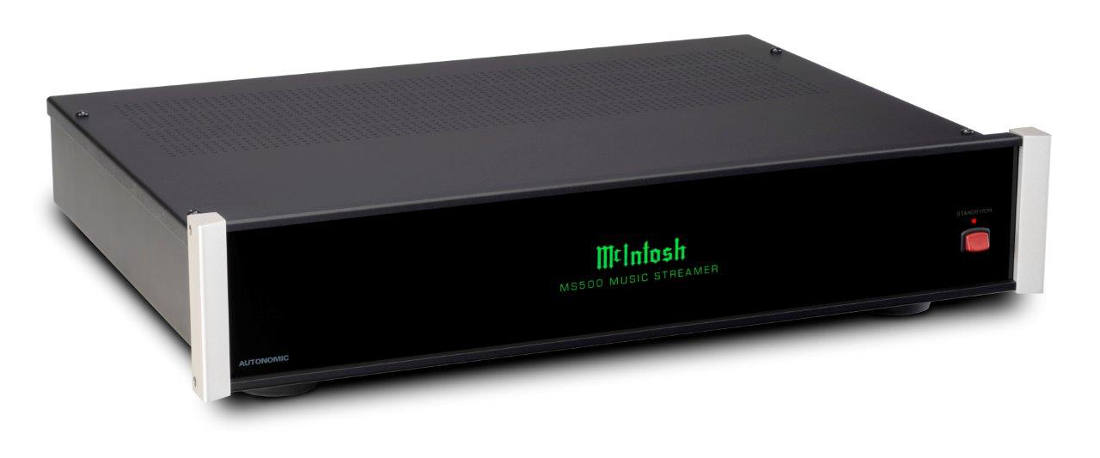 The MS500 has built-in interfaces for streaming services including Spotify, TIDAL, Deezer, Murfie, Pandora, Rhapsody, SiriusXM, and TuneIn. Favorite Internet radio stations can also be added as presets.
The MS500 also offers three USB inputs which allow external storage drives to be connected. Any of the USB ports can also be used to connect an external component with a built-in DAC; utilizing this external DAC, one additional independent audio zone can be created.
The MS500's Linux-based operating system is in place to offer stability, and the company says it is also extremely responsive to user inputs. Users can operate the product via its included remote control, a web browser, or with free apps for Apple and Android devices.
The streamer is compatible with many popular home automation systems, allowing for easy integration into an existing setup. It features a black glass front panel, illuminated logo, and aluminum end caps in the classic McIntosh design.
MCD600 Offers Headphone Users High-Drive Amplifier
The MCD600 SACD/CD unit is built around a newly designed digital circuit which encompasses a new eight-channel, 32-bit up-sampling PCM/DSD digital-to-analog converter (DAC).
Incoming audio signals (PCM) benefit from up-sampling to 32-bit/384kHz resolution for improved sound quality, and the MCD600's Quad Balanced mode configuration dedicates no less than four DAC channels to each channel (left and right).
Providing playback for music fans with extensive disc collections is just part of what the component delivers; the MCD600 can also play music from flash drives from a front panel USB input.
Numerous file formats are supported including AAC, AIFF, ALAC, DSD (up to DSD128), FLAC, MP3, WAV (up to 24-bit/192kHz) and WMA. User-generated CD and DVD data discs are also supported.
The MCD600 also includes both fixed and variable balanced and unbalanced outputs; the variable outputs combined with its volume control allow the MCD600 to be connected directly to a power amplifier without needing a preamplifier.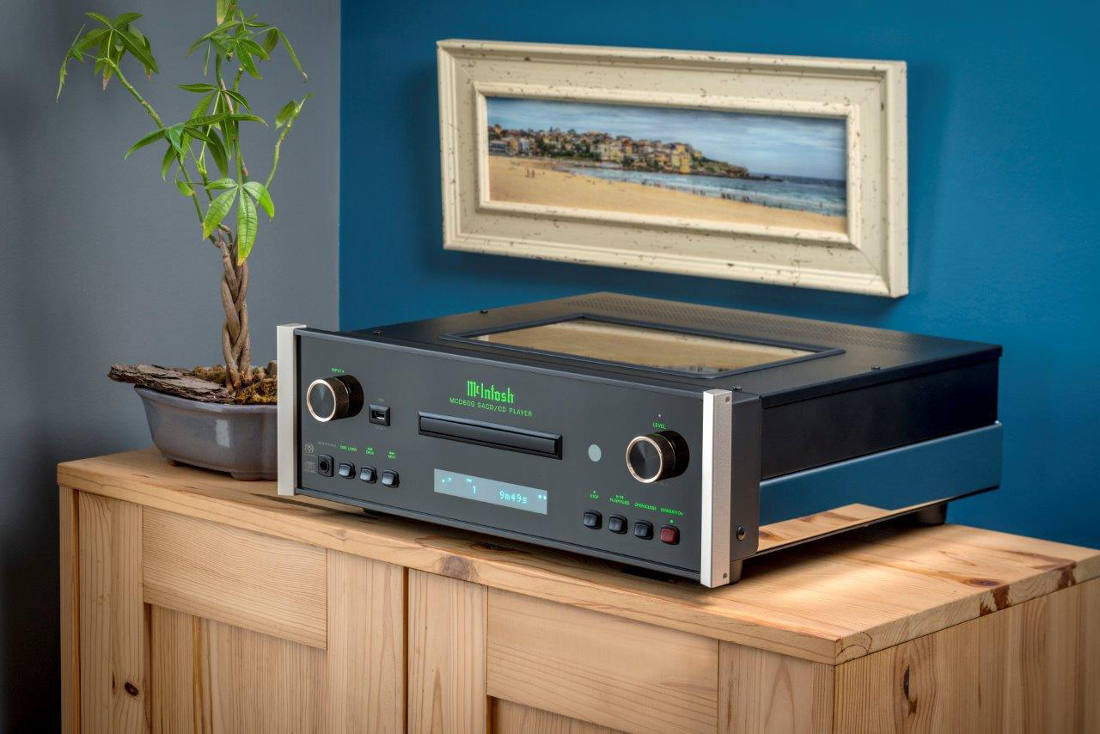 For flexibility and the benefit of D/A conversion for connected devices, coaxial and optical digital inputs are included. Headphone users can also benefit from McIntosh's proprietary built-in High Drive headphone amplifier with 6.35mm front panel headphone output. Coaxial and optical digital outputs enable convenient digital connections to external devices, too.
The MCD600 features the familiar McIntosh styling with a polished stainless-steel chassis, black glass front panel, illuminated logo, knobs, and aluminum end caps. The front panel features new direct-LED backlighting, while the top has a new screen-printed glass panel listing performance specs and a block diagram.
Both products are anticipated to begin shipping this month, with pricing of $6,000 for the MS500 and $7,000 for the MCD600.
If you enjoyed this article and want to receive more valuable industry content like this, click here to sign up for our digital newsletters!