Key Digital Introduces its New KD-Pro8x8D Matrix Switcher
The KD-Pro8x8D Matrix Switcher de-embeds audio from supported or non-supported ARC displays via HDMI and TOSLINK external audio connections.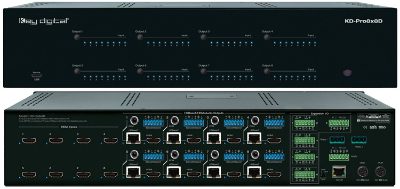 Key Digital introduces the new KD-Pro8x8D professional Matrix Switcher with ARC, Audio DSP, six standard-range, and two long-range HDBaseT receivers.
This versatile matrix switcher is compliant with HDCP2.2 standards, enabling distribution of encrypted content from popular playback devices like UHD/4K set top boxes, UHD Blu-ray disc players, and UHD/4K streaming players.
KD-Pro8x8D features audio de-embedding with DSP control per output, an Analog L/R balanced/unbalanced, and a coax digital output.
"The need to return audio from connected displays has grown exponentially with the commoditization of native smart and web-enabled televisions. Previous limitations with HDBaseT technology have been resolved and KD-Pro8x8D enables audio from content streamed at the display such as Netflix, Hulu, Amazon, and more to then be fed into surround and professional distributed systems," says Jonathon Ferry, National Training Manager for Key Digital.
Variable control of all pre-amp features including volume, muting, 3 band EQ, and lip-sync delay enable the audio outputs to feed immediately into power amplifiers and systems. Lossless compressed digital audio formats such as Dolby TrueHD, Dolby Digital Plus and DTS-HD Master Audio are passed through the HDMI connections.
Each video source may be routed to a separate output set consisting of an HDMI and an HDBaseT transmitter. Both output connections are simultaneously active, allowing support for up to 16 displays (8 mirrored). Using HDBaseT technology, the outputs can carry video, audio, and control signals over longer distances than traditional HDMI based wiring.
Compass Control System and Specs
The six standard range receive units (model KD-X88SGRx) extend UHD/4K signals up to 125 feet (40 meters) at 4096×2160/60 [4:2:0] and 200 feet (70 meters) at 1080p/60. The two long range receive units (model KD-X88LGRx) extend UHD/4K signals up to 300 feet (100 meters) at 4096×2160/60 [4:2:0] and 500 feet (150 meters) at 1080p/60. All HDBaseT receivers are powered at the matrix.
KD-Pro8x8D features support of HDR10 (High Dynamic Range) video, which allows users to experience more life-like images through a greater range of luminance levels. Key Digital's HDR10 delivery is handled as part of its proprietary Full-Buffer Technology (FBT).
Using Key Digital's built-in Compass Control system, the KD-Pro8x8D negates the need for an external master controller. The KD-Pro8x8D contains 35 control ports. End-users have the option to use the Enterprise Software License for Compass Control on their iOS or Android devices. Compass Control is Key Digital's fully integrated control system built from the ground up to use iOS & Android devices to replace traditional control interfaces.
Compass Control instantly integrates components from Compass Alliance Partners to create a simple plug and play system. Key Digitals' control drivers and pre-configured GUI templates for partner products lend to streamlined system development and reduced programming time. Partnering with Lutron, Leviton, Honeywell, KNX, and many additional industry leaders enable Compass Control to be the most modern and cost-effective control system available.
This product joins a suite of Key Digital IP enabled products that are now app ready. The engineers at Key Digital have created a simple way for installers and users to switch inputs and control Key Digital systems as if you were standing in front of the unit, all from your iOS device.