JVC is bringing its D-ILA projector technology to a broader audience with the introduction of two new entry-level models.
The popular projector manufacturer points out that both new entry-level models utilize lamp light sources. According to the company, the new D-ILA projectors also provide 4K 120Hz inputs and JVC notes the new models are compatible with HDR10+ content, which enables dynamic tone mapping on a range of content.
Another important feature included with the D-ILA projectors is 48Gbps HDMI connectivity and compatibility with the HDCP 2.3 content protection format.
The new models complete the JVC projector lineup for 2022, which also includes the recently introduced BLU-Escent laser projectors with 8K60p and 4K120p input. The other products JVC continues are the Procision Series DLA-NZ9, DLA-NZ8, and DLA-NZ7, and the Reference Series DLA-RS4100, DLA-RS3100, and DLA-RS2100 projectors.
2022 JVC D-ILA Projector Key Specs
Summarizing the features of the new JVC projectors, here are a few key technologies and options built into the 2022 JVC D-ILA projectors.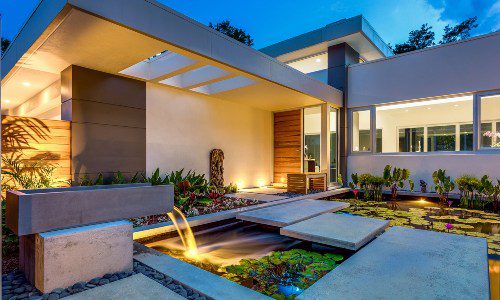 Landscape and architectural lighting create a magical and elegant ambiance for homeowners. The outdoor lighting industry has always been a phenomenal one and continues to grow in popularity. Now is the ideal time to learn more about this rapidly growing and highly profitable industry. Join our panel of esteemed lighting experts that will dive into why it's time for integrators to rethink their role in the outdoor lighting industry.
Register Now! 
Dual HDMI 2.1 inputs: Dual 48Gbps inputs with HDCP 2.3 provide future proof connectivity for next generation source devices and current gaming consoles.
High-Resolution D-ILA Chipset: The DLA-NP5 and DLA-RS1100 are equipped with the same 0.69-inch native 4K D-ILA device as used on higher end JVC models. JVC says D-ILA's narrow-pitch pixel process makes it difficult to see the grid even on the largest screens, enabling smooth and high-definition video expression unique to native 4K.
Glass Lenses: The DLA-NP5/RS1100 is equipped with a 65mm diameter all-glass lens with 17 elements in 15 groups to deliver high-resolution images that are in focus all the way to the periphery of the screen.
HDR Support: Support has been added for HDR10+, which uses dynamic metadata, along with the HDR10 format used in UHD Blu-ray and streaming. Both methods support wider color gamut such as BT2020, and 10-bit color gradation. The HLG (Hybrid Log Gamma) format used in broadcasting is also available.
JVC Frame Adapt HDR and Theater Optimizer Technologies: JVC's Frame Adapt HDR performs dynamic tone mapping — either frame by frame, or scene by scene — based on analysis of HDR10 content, while Theater Optimizer automatically performs optimal tone mapping according to the installation environment. JVC points out the 18-bit level gamma processing suppresses tonal gradations in bright areas and blacks in dark areas, and reproduces smooth gradations with high accuracy.
High Brightness and High Contrast Capabilities: JVC says the new D-ILA projectors are capable of producing up to 1,900 lumen brightness using a 265-watt ultra-high pressure mercury lamp and a highly efficient optical engine. The company also says that through its 4K D-ILA devices and an optical engine with a wire grid the projectors are also capable of achieving a native contrast of 40,000:1, and dynamic contrast levels as high as 400,000:1.
JVC D-ILA Projectors are Calibration Friendly: Supporting the professional integration industry, the projectors are ISF (Imaging Science Foundation) certified to allow for professional calibration of the products. JVC says the installation settings function allows up to 10 types of adjustments to be saved and easily recalled. Some of these settings include lens memory, pixel adjustment, screen masking, screen size, screen gain, and aspect ratios.
In addition, for those that do not have the training or equipment to professionally calibrate the projectors, the D-ILA products include an Auto Calibration mode. JVC adds the Auto Calibration mode is designed to optimize color and gamma performance. This option requires an additional sensor and JVC calibration software, which is available as a free download.
2022 JVC D-ILA Projector Line-up
Here is a look at the complete JVC line of D-ILA projectors for 2022:
DLA-NP5/DLA-RS1100 lamp-source projector $6,999.95 (available March 2022)
DLA-NZ7/DLA-RS2100 laser projector $10,999.95 (available now)
DLA-NZ8/dLA-RS3100 laser projector $15,999.95 (available now)
DLA-NZ9/DLA-RS4100 laster projector $25,999.95 (available now)
If you enjoyed this article and want to receive more valuable industry content like this, click here to sign up for our digital newsletters!