It's always tempting for integrators to work with homeowners on a themed home theater design, but oftentimes what starts as a cool idea turns out to be a major pain for interior designers. Sheba Kwan of Toronto-based interior design company Red Theory believes home theaters should feature unique design elements, but this can be done without sacrificing the home theater experience.
As an example, Kwan points to a recently completed project: 'The Rochester' theater, which Red Theory made sure had touches that only a designer can bring versus the technology-oriented rest of the project's team.
"The name Red Theory was conceptualized by marrying art and science. 'Red' is the idea of traditional theater, red carpets, velvet curtains, and grand entrances; 'Theory' is our core principle of engineering rooms, including construction materials, sound isolation, audio and video components, and acoustic treatments," says Kwan.
"We take an immense amount of pride in delivering unique, bespoke design solutions to our clients. We love challenging the status quo and want to change what the 'idea' of a home cinema is," she explains.
"We don't believe a theater needs to be traditional or themed. We think that a theater is a room in the house you can explore different design styles; you can create something one of a kind, and different to 'the rest of the residence.' Throughout this exploration of design and creativity, we maintain the respect to theater design principles for material selection and hardware placement."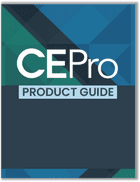 CE Pro's 2022 Product Guide showcases some of the latest and innovative solutions from manufacturers serving the custom electronics industry in a cross-section of categories.
Download the guide now!
Red Theory designs about 20 home theaters annually, along with wine cellars, tasting rooms, showcase garages, mancaves, gaming rooms, karaoke room and bars.
"The most important factor for a successful integration of interior design and technology is planning! Work closely with your designer, and AV integrator and start the process as early as possible during the construction process," Kwan says.
"There are decisions that can be made early during the architectural planning stage of a home that can lead to great improvements with space planning, HVAC, sound isolation and technology placement — as the home construction begins the options to make changes to these infrastructure items is limited."