David Lorsch, founder and former CEO of DBL Distributing, passed away suddenly at the age of 62. Lorsch formed DBL Distributing in 1989 to bring a West Coast distribution company to the independent retail, commercial AV and custom electronics channels. Lorsch sold the Scottsdale, Ariz.-based company to Ingram Micro in 2007 for $96 million.
Lorsch started DBL as a catalog distributor because he saw a gap in the electronics distribution market targeting the industry west of St. Louis. Eventually serving the entire nation, the company expanded beyond targeting just audio and video retailers to add digital photo, mobile phones, commercial AV gear and custom installation equipment.
The company grew to serve more than 30,000 retail customers nationwide, with a line card of more than 17,000 products from 400 manufacturers. Six months after the sale to Ingram Micro, Lorsch resigned his position with DBL.
According to posts from his wife Cindy and son Scott Lorsch Facebook page, Lorsch passed away on February 4 at home in his office.
Cindy posted, "My heart is beyond broken. I am still trying to process why my David my love has left me and our children."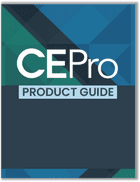 CE Pro's 2022 Product Guide showcases some of the latest and innovative solutions from manufacturers serving the custom electronics industry in a cross-section of categories.
Download the guide now!
His son Scott posted, "My father was an amazing human, my teacher, and my friend and I will miss him dearly!"
Gary Shapiro, president and CEO, Consumer Technology Association (CTA), noted, "David, the Founder and CEO of DBL Distributing, was an entrepreneur and visionary who wanted to change how retailers bought and sold accessories. DBL Distributing changed the perception of accessories from a poor stepchild of the consumer electronics industry into a retailer's primary profit center. David, along with his wife Cindy, quickly grew the business and ultimately sold it in 2007 with more than 26,000 customers, and a 1,200-page catalog filled with 18,500 products from more than 400 manufacturers.

A long-time advocate of the consumer technology industry, David generously volunteered his time to advance the industry. At the time of his passing, David served on CTA's Accessories Division and on the Small Business Council. He served on CTA's Board of Industry Leaders from 2006-2008. In recognition of his long-time services to the consumer technology industry, David was inducted into CT's Hall of Fame in 2016. He was a long-time mentor to CTA and to the industry more broadly.

"David, and his wife Cindy, created an amazing company, DBL Distributing, which they made hugely successful and sold. Along the way they gave back to the industry through CTA voluntary activities and donations. We will miss David's passion, friendship and humor and we offer Cindy and his family our sincerest condolences," says Shapiro.
Lorsch is survived by his wife Cindy and son Scott. The funeral will be held Tuesday, February 8 at 11 a.m. at Mt Sinai Cemetery (24210 N 68th St, Phoenix, AZ 85054). Shiva will follow that evening at 5:30 p.m. for both afternoon and evening services.
The family is inviting anyone to post photos, videos, words of love, or anything fun about David please to their dropbox folder.
https://www.dropbox.com/request/0SW1RjqAORPXxPPuhEzD
Funeral service:
Tuesday, February 8 at 11 AM
24210 N 68th St, Phoenix, AZ 85054
Shiva:
Every day at 5:30 PM February 8-15, except for Friday.
9820 E Thompson Peak Pkwy, Unit 730
Scottsdale, AZ 85255