The 2023 Small Business Index released today, and with it came the reveal of a worsening outlook on the national economy among small business owners. The report, which is compiled by MetLife and the US Chamber of Commerce, found the index dropped once again this quarter to 60 points down from 62.1.
The Census Bureau defines small business by firm revenue (ranging from $1 million to over $40 million) and by employment (from 100 to over 1,500 employees).
In the index, one in five (20%) of small business owners stated that the US economy is in good health. This is down from 27% saying so last quarter.
Fewer small businesses have also stated that they plan to increase investment over the next year (38% vs 47% from last quarter.
Despite perceptions of a weaker national economy, however, the Small Business Index indicates that owners predominantly report their business to be in good health (63%), while 64% state they are comfortable with current cash flow. Both numbers have remained stable over the last couple of quarters.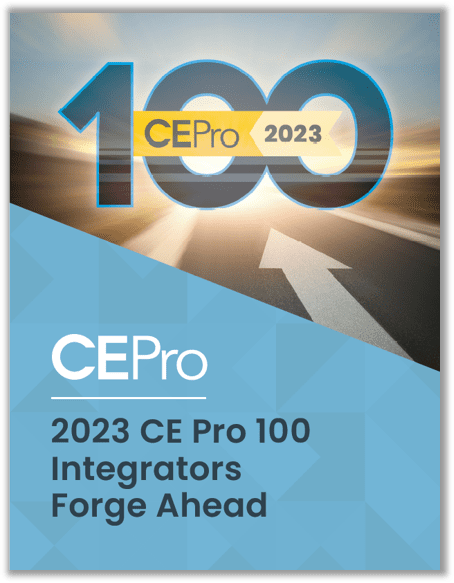 Which companies in the custom integration market made CE Pro's 24th annual CE Pro 100 list?
Seven in ten (69%) state they have retained the same number of employees over the last year. One in five (19%) even reported an increase in staff over the same period.
"This quarter, small businesses' concerns over inflation are soaring and their view of the broader economy is darkening, though they still report that their own businesses are in good health," said Tom Sullivan, Vice President of Small Business Policy at the U.S. Chamber of Commerce.
"Small business owners are pulling back a bit on spending as they see storm clouds in the economy appearing ahead," Sullivan continued.
This is the fifth consecutive index (and fifth consecutive quarter) where inflation tops the list (54%) as the main challenge for small business owners.
Other concerns include:
Revenue – 22%
Supply chain issues – 21%
Interest rates rising – 16%
Employee retention – 11%
Affording healthcare/benefits – 10%
Small business owners have also begun to cite multiple barriers around securing financing. This includes a time-consuming application process (52%), not having enough information on available sources (46%) and not having enough assets to qualify for a loan (46%).
The coincides with sentiments that access to capital has dropped in the last five years.
According to the index, about half (49%) of small business owners say their current access to capital or loans is good, slightly lower than those who said the same in Q2 2022 (54%), and significantly lower than in Q2 2017 (67%).
This also coincides with the fact that small business owners of firms with less than fice
Small businesses with less than five employees are more likely to turn to personal savings to fund their businesses. 75% of small businesses with fewer than five employees report that they rely on personal savings to finance their business, compared to 59% each for businesses with 5-19 or 20-500 employees.
Healthcare has also provided its own set of problems. While 85% of small business owners believe offering healthcare helps attract and retain employees, the majority say navigating the options is time consuming (65%).
A similar share (62%) believe the cost of healthcare crowds out other priorities for their business.
Views of the local economy, however, remain steady, with the Small Business Index finding perceptions surrounding local business remained "good" for the quarter.
"Despite anticipating potential economic headwinds in the coming months, it is encouraging to see that the majority of small business owners say their business is in good health," says Cynthia Smith, senior vice president, Regional Business at MetLife.
"It is also promising to see the majority have been able to retain and attract talent. Small business owners have remained focused and determined, so it is not surprising to see them persevering in uncertain times."
If you enjoyed this article and want to receive more valuable industry content like this, click here to sign up for our digital newsletters!