Celebrating the most noteworthy new products and technologies of 2018, CE Pro is pleased to announce the winners of this year's CE Pro BEST (Best Electronic Systems Technologies) Awards.
"The BEST Awards offer an incredible glimpse into the future for the entire residential integration industry," says Jason Knott, editor-in-chief, CE Pro.
"Some of the products and technologies that integrators now consider mainstays to their businesses made their first appearance in the market via the BEST Awards. These entries truly represent the cutting edge of technology."
All entries were judged on innovation, functionality, competitive advantages and benefits to the installer by a dozen credible industry leaders, along with the editors of CE Pro.
CE Pro is honoring the BEST Award winners tonight at a special presentation taking place on the Smart Stage in Hall A. All are welcome. The ceremony begins at 5:00 PST.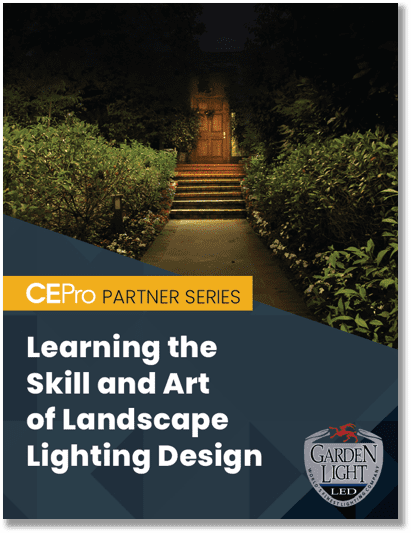 Experts recommend landscape lighting design as an entry point for integrators into the revenue opportunity of home lighting. Check out our new resource for tips and best practices. Download "
Learning the Skill and Art of Landscape Lighting Design
" today!.
Winners' products and technologies, as well as all entries, will be featured in the November issue of CE Pro magazine.
---
Business Operations
---
Business and Software Design Tools 
D-Tools, Inc. 
Cloud
---
Control and Automation
---
Energy Management
Sonnen, Inc.
ecoLinx 
Integrated Security System/Module/Device/Surveillance Cameras (TIE!)
TELGUARD/NETGEAR
Arlo Go LTE Mobile HD Security Camera 
Kwikset
Obsidian Touchscreen Smart Lock with Home Connect technology
Alula
Alula Connect+ Platform 
Lighting Controls and Accessories 
NOON Home, Inc.
The NOON Home Smart Lighting System 
Motorized Shade Controls & Accessories
Lutron Electronics
Palladiom Shading System 
User Interface Devices: Touchscreens, Keypads, Remotes, Voice Control (TIE!)
Loxone
Touch Surface 
DISH Network L.L.C.
DISH OnePoint™ App
Whole House Control (TIE!)
Brilliant
Brilliant 
Crestron Electronics Inc.
Crestron Pyng OS 2
---
Home Theater/Multi-Room Audio/Video
---
A/V Switchers
Crestron Electronics Inc.
DigitalMedia 4K60 4:4:4 HDR Network AV Encoder/Decoder 
Flat Panel TV/Ultra HD 
Séura
Séura SMART Mirror
HDMI/HD-BaseT Extenders
Inneos
InvisiCable 
Home Theater A/V Receivers and Source Components 
Denon
AVR-X8500H 
Media Servers/Streaming Media/DVRs
Modulus Media Systems
Modulus
Mount/Lift/Media Concealment 
Nexus 21
Transcend Pro Motorized Over-Mantel Mount
Multi-room A/V Components (Amplifiers, Receivers, Source Components and Preamplifiers) (TIE!)
MSE Audio
Phase Technology Weatherproof Smart Amp OS-440 
Vanco International 
Spot for Dot 
Power Management, Generation, Surge Suppression and Storage/Remote Services 
Arlington Industries
TV BRIDGE KIT III 
Projection Screen 
EPV Projection Screens
DarkStar UST eFinity 
Projector
Barco Residential
Prometheus III
Racks, Furniture, Seating and Acoustical Treatments 
Salamander Designs
Ultra Short Throw Projector Cabinets 
Wireless A/V Solution (Amps, Source Components, Signal Distribution Solutions) 
ProVideoInstruments
MiniMod-2 
---
Household Enhancements/Installation Accessories
---
Cables and Cabling Products 
Metra Home Theater Group
HDM-GA2 Gigabit Accelerator 
Communications Products
HiBoost
Home 10K Plus 
Home Networking Device 
Open Mesh
A62 Cloud-Managed WiFi Access Point 
Outdoor A/V (TIE!)
Peerless-AV
Peerless-AV Xtreme Outdoor Soundbar (SPK-080) 
GoVision
GoTV
---
Loudspeakers
---
Architectural Speakers (TIE!)
SONANCE
VP52R Ultra Thin-Line 
JBL Synthesis
JBL Synthesis SCL-2 In-Wall Loudspeaker 
SAVANT
Artison IP Speakers 
Floor-standing/Book Shelf Speakers (TIE!)
DALI
Callisto
Bowers & Wilkins
603 
Soundbars/On-Wall/Single-Chassis Surround Loudspeaker
SAVANT
Artison IP Sound Bar 
Subwoofer
Starke Sound Inc.
Sub45 
---
Most Promising
---
Samsung 
The Wall 
---
Object-Based Surround Components
---
Theory
ALC-1809B Amplified Loudspeaker Controller Theory Audio Design
---
Peripherals and Enhancements
---
ConnectedYard Inc.
pHin 
---
Tools, Testing and Calibration
---
EnGenius Technologies
ezWiFi Planner