ADA Custom Built Program Puts Integrator Brand Name Front and Center
Ever wanted your business logo on the components you sell? Audio Design Associates (ADA) has you covered with its new Custom Built program.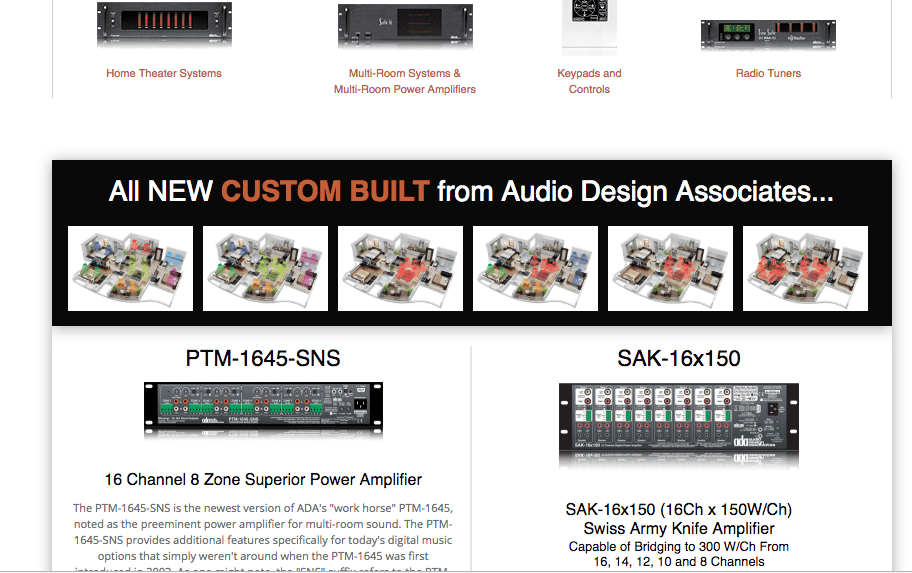 Who's brand is more important… the custom integrator's or the product manufacturer's? It is a question that has bedeviled CE pros for years. Yonkers, N.Y.-based Audio Design Associates' (ADA) Custom Built program has the solution via a new service designed to help integrators emphasize their own brand name on the equipment they install by silkscreening integration company business names on ADA components,
Richard Stoerger, president and CEO of ADA, says electronics professionals face a number of influential market conditions that impact the profitability of their businesses. This new custom service will help integrators replace some of the revenue losses they face due to current market conditions, he says.
"Consumer enthusiasm for music throughout one's home is at a high. Yet, because of inexpensive solutions like Sonos, as well as slightly more upscale options provided by our competitors, this surge of interest has also led to a decline in performance and expectations," states Stoerger.
"Don't get me wrong, I get it … customers who think that Sonos is the answer regardless of home size leave the dealer offering at best to an inexpensive cheap, multiroom upgrade. And that is why we are rolling out ADA's Custom Built dealer program, which will enable our dealers to truly differentiate their proposals. Imagine specifying the very best solution for your customer and doing so with your own brand of electronics."
ADA Custom Built Program Offered at No Cost
The Custom Built program provides options such as the ability to silkscreen integration business names on ADA components, supporting the range of needs and requirements necessary to help electronics professionals compete in categories that include commodity products.
According to Bill Skaer, North American sales manager, ADA, the ability to offer products with dealers names instead of manufacturer logos helps to minimize the shopping of brands by consumers.
Related: Stoerger New President & Chief Executive Officer of ADA
"When I was a custom installer we began using custom-branded cables because it solved two problems: First we were able to specify our own specific wire that we could price accordingly. Second, the branding of our name on something that you only really see while the house is being framed helped us stand apart. I can't even imagine the impact of having your own line of electronics to work with," notes Skaer.
"While speaking to hundreds of dealers throughout North America since taking on my role here at ADA, the only thing I hear most frequently is, 'who else is selling this?' Imagine the faces when I can finally say, only you are selling this model."
Skaer adds the service essentially provides dealers with a made-in-the-U.S.A. house brand of amplification products.
"This is as close to being able to OEM [original equipment manufacturer] your own brand of electronics, and best of all, they are components you would be proud to put your name on [because] they are manufactured right here in the United States of America at no extra cost," he emphasizes.
"That is the beauty of ADA's Custom Built program—you brand your own electronics at no extra cost."