$2,000 4K Epson Home Cinema 4010 Produces DCI-P3 Color Gamut
The new 4K Epson Home Cinema 4010 projector provides homeowners with an affordable UltraHD compatible solution that incorporates its latest pixel-shifting technologies.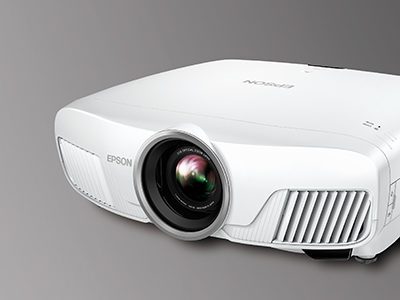 Adding to its line of 4K compatible projectors, the newly announced $2,000 Epson Home Cinema 4010 PRO-UHD projector with HDR employs the company's latest video technologies.
More specifically, the Home Cinema 4010 incorporates Epson's 4K PRO-UHD technology, which includes the latest version of its resolution-enhancing, pixel-shifting technology, along with the ability to produce the wide-range DCI-P3 color gamut.
"Epson's new Home Cinema 4010 4K PRO-UHD projector represents a new type of 4K experience for home theater projection," says Rodrigo Catalan, senior product manager, projectors, Epson.
"Utilizing proprietary resolution-enhancement technology, along with advanced forms of HDR and image processing, the Home Cinema 4010 produces incredible brightness, color accuracy and image detail for the ultimate 4K experience."
PRO-UHD Technology Helps Epson Standout
Its 4K PRO-UHD optical-engine helps the projector produce up to 2,400 lumens of color and white level brightness.
Epson says the Home Cinema 4010 also delivers those colors accurately and vividly through its ability to produce the digital cinema DCI-P3 color gamut.
The Home Cinema 4010 also produces contrast ratios as high as 200,000:1.
Related: Epson Updates Product Line, Introduces 4K Pro Cinema 4050
Additional features include Epson's 15-element glass projection lens and 12-bit digital processing. Epson's 12-bit processing features its Frame Interpolation and Advanced Motion Control technologies to help the Home Cinema 4010 produce images that are smooth between frames.
The 4010 incorporates +/- 96 percent horizontal lens shift options, along with +/- 47 percent lens shift on the vertical axis to help integrators install the projector in a range of environments.
Epson Home Cinema 4010 Pro-UHD 4K Projector Features
Epson 4K PRO-UHD technology features three individual 1920×1080 LCD panels that enable the 4010 to produce a resolution of 4096×2160.

Through its 10-bit color output and contrast ratios, which are as high as 200,000:1, the projector is compatible with the HDR10 HDR format.

The projector features a 15-element projection lens.

Epson states the projector produces the digital cinema DCI-P3 wide color gamut, which is 50 percent wider than the HD standard of Rec.709.

12-bit digital processing delivers smooth images.

The 4010 incorporates a powered lens provides focus and 2.1x zoom. In addition, the projector includes wide horizontal and vertical shift options.
The Epson Home Cinema 4010 produces up to 2,400 lumens of color and white level brightness.
MSRP is $2,000.