2019 Top New Technology (TNT) Awards Deadline Approaching
TNT Awards offers wide international exposure on four websites and three publications for new residential and commercial products exhibited at Integrated Systems Europe (ISE) 2019.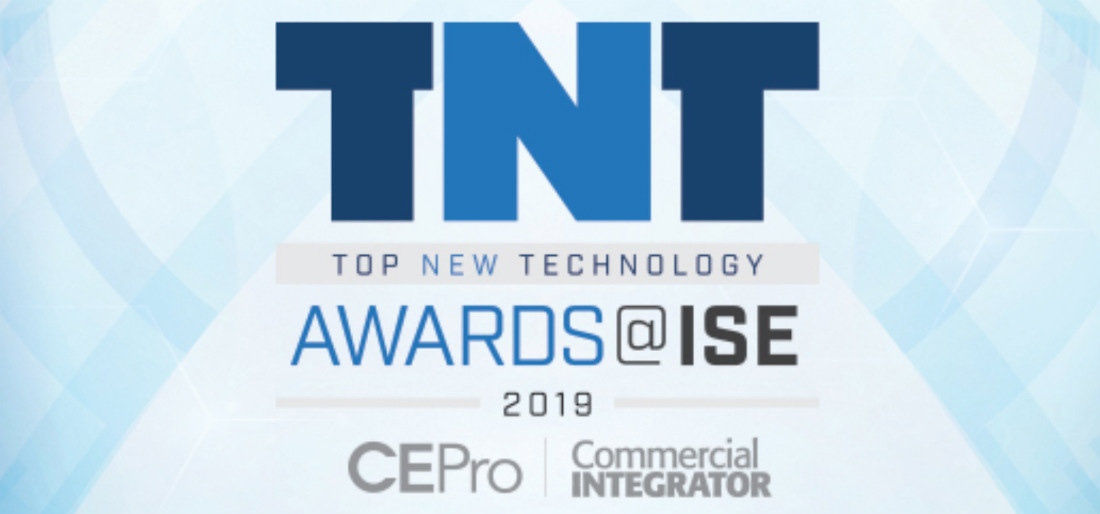 Bringing together the power of the top trade publications and websites in the U.S., the fourth annual Top New Technology (TNT) Awards at ISE have launched. The program offers the greatest worldwide exposure at the greatest value for manufacturers exhibiting new products or services at the 2019 Integrated Systems Europe (ISE) show in Amsterdam, Netherlands, from Feb. 5-8, 2019.
The program combines the power of CE Pro and Commercial Integrator print publications and websites to recognize the new and outstanding products and services at ISE across 23 categories and 70 subcategories.
"Integrators from all around the world today operate diverse companies that cover both the residential and commercial markets. The Top New Technology (TNT) Awards presented at the Integrated Systems Europe (ISE) show helps integrators filter out their product decision-making process by identifying the best of the best in new technology," says Jason Knott, editor-in-chief, CE Pro.
All entries will receive:
Worldwide exposure with a photo and product description of each entry displayed on:
CEPro.com
Commercialintegrator.com
MyTechDecisions.com
Winners will receive:
Trophies presented in a ceremony on Feb. 5, the first day of ISE
Exposure in 2019 print editions of CE Pro (residential products) and Commercial Integrator (commercial products).
Use of the TNT 2019 logo in marketing materials and online.
Judging criteria are technological innovation, benefits to the integrator and benefits to the end user. A team of knowledgeable integrators from around the world will determine the top products or services in each category.
Your product either must have shipped in the 12 months before the January 4, 2019 deadline, or be set to debut in the 6 months after.
The final entry deadline is Friday, Jan. 4, 2019. Entries must be received by 5 p.m. EST (US).
Entry fees are:
Regular Entry: $495 USD.
Additional Categories: $295 USD each.
---
Residential categories to be judged:
Accessories
Business Operations
Marketing Programs (i.e., training programs, webinars, certifications)
Software Application (i.e., proposal software, apps, accounting software)
Tools, Testing & Calibration
Control and Automation
HVAC Integration System/Connected Thermostats
Integrated Security System/Module/Device/Surveillance Cameras
Touchscreens, Keypads, Controls, Remotes & IR Extenders
Lighting Controls/Motorized Shade Controls & Accessories
Whole House Control
Home Theater/Multi-Room Audio/Video
A/V Preamplifier / Processor / Switcher / Amplifiers
Flat Panel TV / Ultra HD
HDMI / HDBaseT Extenders
Headphones
Home Theater Source Components
Media Servers / Streaming Media / DVRs
Mount / Lift / Media Concealment
Multi-room A/V Components
Power Management, Generation, Surge Suppression
Projection Screens
Projectors
Racks, Furniture, Seating, and Acoustical Treatments
Wireless A/V Solutions
Household Enhancements/Installation Accessories
Audio, HDMI Cabling
Central Vacuum
Digital Phone System/Dedicated Intercom/Cellular Signal Booster
Home Networking Device
Outdoor Audio
Outdoor Video
Installation Tools and Testers
Loudspeakers
Floorstanding/Shelf Loudspeaker
In-Ceiling/In-Wall Loudspeakers
Soundbars/On-Wall/Single-Chassis Surround Loudspeaker
Subwoofers
Wireless Speakers
---
Commercial categories to be judged:
Access Controls
Audio
Audio Components
Audio Distribution Systems
Audio Processors
Microphones
Control Systems
Automation Components
Automation Software
Touchscreens
Digital Signage Solutions
Digital Signage Hardware
Digital Signage Software
Displays
All-weather Displays
TVs
Video Monitors
Loudspeakers
Installed Subwoofers
Installer Loudspeakers
Line Array Speakers
Mounts or Racks
Component Racks
Display Mounts
Projector Mounts
Network Management Solutions
Power Conditioning, Surge Suppression, and Energy Solutions
Project Management and Design / Web Software
Projectors
Classroom Projectors
Conference Projectors
Large Venue Projectors
Specialty A/V Cables or Connectors
Surveillance Cameras
Unified Communication And Collaboration
Audio Conferencing Components
Cameras
Collaboration
Interactive Whiteboards
Microphones
Video Conferencing Components
Video Distribution Solutions
Coax Video Distribution
IP Video Distribution
Matrix Switchers
Video Projection Screens
Video Wall Solutions
Video Wall Hardware
Video Wall Software
---