IoT is a lot more pervasive in residential technology than ever before, and therefore the market for IoT devices has grown, too.
According to market researcher Gartner, 8.4 billion networked devices were in use last year; 31% more than last year. By 2020, estimates say it will already be 20.4 billion devices.
IoT is the network of physical devices, vehicles, home appliances and other items embedded with electronics, software, sensors, actuators and connectivity to enable these things to connect and exchange data.
This creates opportunities for more direct integration of the physical world into computer-based systems, resulting in efficiency improvements, economic benefits, and reduced human intervention.
The 2019 IoT Integration Awards
CE Pro, Commercial Integrator and Security Sales & Integration are teaming up to give out the 2019 IoT Integration Awards entries (click here for more info).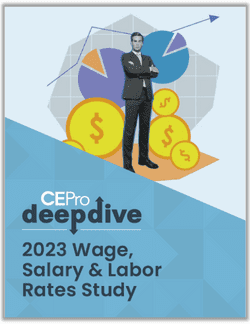 Discover the drastic difference a year can make when it comes to wage, salary, and labor rates in the custom integration industry.
The deadline to enter your IoT devices is coming soon, with the final deadline on October 4, 2019.
"From thermostats to surveillance cameras to appliances to whole-house control systems… and everything in between… the Internet of Things (IoT) is becoming ubiquitous in the home," says Jason Knott, editor-in-chief of CE Pro.
There are a variety of categories to enter the IoT Integration Awards for commercial, residential and security integrators to choose, including in AV and collaboration/communication, access control, intrusion/fire, smart building controls and video surveillance.
Entries should come from one of the following categories:
AV and Collaboration/Communication
Access Control
Intrusion/ Fire
Smart Building Controls
Video Surveillance
If you enjoyed this article and want to receive more valuable industry content like this, click here to sign up for our digital newsletters!