Torus Power PowerBlock PB 5 is Now Available
Torus Power says its PowerBlock units are small in stature but offer improved A/V performance and protection at an affordable price.
Press Release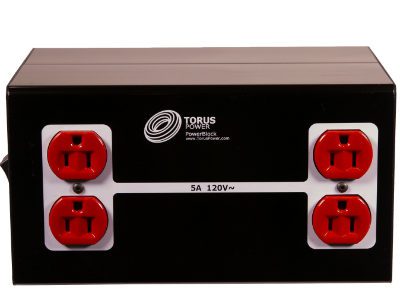 Torus Power, maker of isolation transformer-based power components for A/V systems, has announced that the PowerBlock PB 5 toroidal isolation transformer is shipping now.
Featuring a compact footprint and rugged construction, the PB 5 is designed to power TVs, projectors, receivers, and source components in compact A/V systems. Ideal for isolating digital components from analog equipment, the PB 5 is perfect for residential and light commercial applications where performance truly matters.
The PowerBlock Series, including the PB 5, includes some of the very best of Torus Power technology. Surge suppression and noise filtering through proprietary narrow bandwidth technology (NBT) allow sophisticated audio-visual components to deliver superior performance.
In addition, Torus Power says that audio comes alive with a lower noise floor, better dynamics, imaging and bass, and video is notably crisper with brighter colors, deeper blacks, and a more compelling overall image.
PB 5 PowerBlock units use a 5 Amp toroidal isolation transformer to physically decouple the equipment from the power supply, delivering a lower noise floor for sophisticated A/V systems.
Retailing for $799.00, the PowerBlock PB 5 is the most affordable product in the Torus Power lineup.
The PB 5's bigger brother, the PowerBlock PB 10, is also available.
Read Next: Torus Power PowerBlock PB 10 Now Available
"The PowerBlock Series by Torus Power has been anxiously anticipated by our partners and consumers alike, and we're excited to announce that it's now available. The proliferation of higher performance technology in a variety of applications means that clients require perfection from their equipment investment," says Kevin Main, COO and president of Torus Power.
"A solid power foundation that is completely isolated from the power supply provides tangible and noticeable improvements in the audio and video quality in any application, from home theaters and recording studios to conference rooms and large performance venues."