Like many small custom integrators, Paul Hagen of Site on Sound in Fargo, N.D., does everything from sales to engineering to project management to custom support.
"I sell the system to the client and then I show up to do the installation. I am on the project from start to finish for my customers," he remarks. Hagen is primarily focused on the commercial side of the business with other Site on Sound teams specializing in 12 volt car audio, and a whole range of applications from residential projects to motorhomes, boats or even Harley Davidson motorcycles.
As a small company, support from manufacturer partners can be key to Site on Sound's success. And that's exactly the situation that occurred last spring when Hagen was installing the largest system he has ever done at a local sports book casino.
The original system design called for a Key Digital AV-over-IP video and Q-SYS via Dante audio distribution throughout the facility via D-Link network switches; however, the switches were not able to support the large system, according to Hagen. After consulting with the Key Digital team, Site on Sound changed to Netgear switches.
"When I deployed the switches, nothing worked. When I was able to get video, there was no audio. When I got the audio to work, there was no video. Something just wasn't right," recalls Hagen.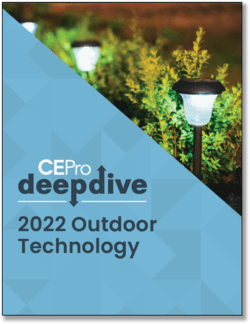 The 2023 CE Pro Outdoor Technology Deep Dive reveals unique set of impediments, including explaining pricing and interacting with outdoor-centric trades.
Get your copy now to take a "deep dive" into the trends and challenges of outdoor technology.
Download the report now!
He initially emailed the Netgear tech support team and they offered him some pointers, but eventually Hagen had to shut the entire casino down.
"I sent an email to Netgear at 8 p.m. Central time hoping that there was someone still there who could help me," he says.
About 20 minutes later, a Netgear Pro AV Design Team engineer called him and stayed on the phone with him until 2 a.m. until they got the system functioning. The next morning at 8 a.m., that same Netgear tech support person texted Hagen to see if the system was still up and running properly.
"I told him I didn't know because I was still in bed!" he laughs.
Over the next several days Hagen stayed in consistent communication with the engineer at Netgear Pro AV Design Team to affirm the system was working perfectly.
"They saved my butt," exclaims Hagen. "They went above and beyond. I have actually talked more since then with that same tech support person and he has been 'johnny on the spot' and helped me immensely."
In addition to the Pro AV Design Team, Netgear has a Pro WiFi Design Team. Dealers are relying more on Netgear as their outsourced IT department for network troubleshooting, product/brand comparisons and trainings. The company also supplies installers with engineering documentation to hand their technicians and clients that include connectivity diagrams in Visio and heat maps showing optimal Wi-Fi coverage using Ekahau. Both the Pro AV Design and Pro WiFi Design Teams are live, 24/7/365 and free to the channel.
Site on Sound now uses Netgear on every project, including several upcoming commercial jobs with Just Add Power and QSC teleconferencing gear, along with a residential installation with URC Total Control.