No matter the time of year, integrators can consider how to get involved early on their customers' potential outdoor plans. Trace McCullough, founder/CEO of Southern California cabinet/TV lift specialist Cabinet Tronix, chatted with CE Pro about thinking outside the traditional outdoor AV box when it comes to custom-installing fun in just about any home's exterior.
CE Pro: How can integrators create differentiators in their outdoor tech project? 
Trace McCullough: Clients, designers and contractors have to remain flexible when it comes to integrating a TV into the backyard. When designing around the TV, they have to consider where to put it, where it can be watched, where it cannot be watched, walls to build for it, what it will look like when not in use, whether an indoor TV or outdoor TV is better, whether repeatedly getting it dirty adds up to a major pain for most higher-end homeowners, and what this means to builders and designers.  
Integrators are fantastic at finding different solutions. However, the initial design layout may not always offer much more than hanging the TV up on a wall, or from a pergola over a fireplace in the backyard. Additionally, many times there is no place to hang the TV at all.
Be the hero and offer a way for clients to watch TV anywhere they can move the unit in the backyard and have a swivel so they can turn the TV in any direction. AV integrators install Wi-Fi capabilities inside the mobile/movable cabinet island and clients simply plug the power unit where they want to watch it.
CE Pro: Why did Cabinet Tronix gravitate toward custom cabinet/lift solutions for outdoors?
McCullough: AV has the opportunity to reinvent what and how the TV can be used in the backyard to potential and live clients. Outside TV cabinets and backyard TV lift furniture, weather-ready mobile or stationary hidden TV lift cabinets, create the opportunity for integrators to offer what most do not think of, and at the end of the day can create a memory point between the potential AV client.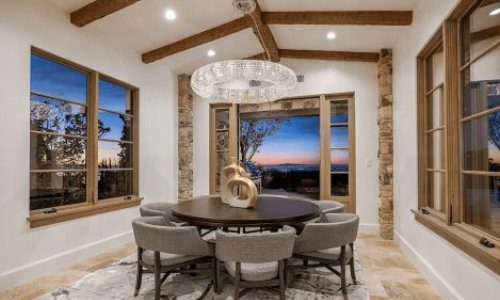 As a custom integrator, lighting is in demand. Effective communication, education and showcasing the value proposition of LED light fixtures in conjunction with integrative control systems are the keys to overcoming challenges and closing sales in this specialized market. Join us as we discuss the future of digital lighting and control with David Warfel from Light Can Help You and Patrick Laidlaw and Mark Moody from AiSPIRE.
Register Now! 
Additionally, clients do not have to look up so high or at the TV when not in use. They can watch it anywhere they have a small space in the backyard. In the end, this can save clients an enormous amount of construction costs. It is even a tabletop when down so they can enjoy the multi-purpose unit anywhere they want.
Our most exciting invention that's surprising most clients and hitting a home run is our Outdoor Mobile TV Lift Cabinet Bar & Fridge. It's a hidden TV lift and entertainment cabinet unit with built-in wheels, stainless steel serving area, two-door storage, built-in refrigerator and everything needed to make an outdoor space ready. It's U.S. made of durable, robust and hardwearing IPE wood, also known as Brazilian teak, entirely weatherproofed, designed to be enjoyed in every climate and with an extensive 10-year warranty.
In addition to fitting up to a 65-inch TV with optional soundbar and 360-degree manual swivel, the interior is made of solid mahogany and storage with a charging station inside for a tablet, mobile and portable speaker as well as space for essentials such as glasses, cocktail shaker and utensils.
CE Pro: Do integrators do enough to address outdoor "living spaces" like kitchens, where they can cater to them with unique products like the Cabinet Tronix solutions? 
McCullough: I think without question that AV has great strengths in the outdoor market and offers, from the simple to very complex, systems for backyard living spaces. What if there is a product that could increase the amount of time people spend outside?
Every job is different and has different needs. AV could have a lot of competition on each project or not much at all. Adding a "game-changing solution" to what is offered outdoors could possibly affect all aspects of a client's new home, remodel or an add-on that could increase sales alone.
With Cabinet Tronix, whether it's a simple up and down lift island or the all-in-one movable day/night stunner system, AV will generally be the one to sell to homeowners, commercial buyers or hotels. This is a product that can increase the amount of time people spend outside. The system goes where they go and where they want to spend time. At the same time, it's a fun product for the end user.  Whether it's just music or TV, the ability to have a nice cocktail at night or pool party during the day is made possible because of AV. 
Finally, I'll ask a question with a question to drive home the point about outdoor living spaces: Is what is already offered enough for the end-user in the spots AV already is working on now, but also enough in other spaces they usually do not offer work?
CE Pro: How should dealer demo or place a product like this within their portfolio of outdoor solutions? 
McCullough: All of our products are online at www.cabinet-tronix.com, and we have an outdoor book for dealers that shows many products and how they are used in different locations in backyards. No need for onsite demos or in showroom pieces. The pictures sell the product and the dealer can simply call us to learn more and see what we have in stock ready to ship.  
CE Pro: Where are integrators are leaving money on the table in terms of outdoor possibilities? 
McCullough: Not telling their protentional or current clients they can watch TV in other places in the backyard. Being a hero in this situation can also mean the end-user could save money with other vendors. This could help land more projects and also increase the amount they spend with an integrator. 
I believe it is possible to increase more AV work in the standard areas and also create new ones by simply offering more available in more spaces. Offering different approaches to end-user so they can have what they want in multiple areas with the same product. Cabinet Tronix makes it so you can offer this "something else, somewhere else" where it might have not been offered before.
Thus, an opportunity for AV to extend their reach in products offered in outdoor living spaces is definitely possible. Think of a roof-top patio, offer the outdoor hidden and bar TV lift cabinet with fridge. This will offer so many all-in-one solutions the client could be very surprised and excited at the same time.
CE Pro: What are some best practices for integrators who want to build an outdoor "showroom" or vignette to maximize outdoor potential using products like these? 
McCullough: As for integrating a Cabinet Tronix outdoor hidden TV lift furniture island, create different spaces the TV can be watched from such as under veranda, out in the open, on a patio, on a deck, by the pool, on a roof top patio, by the fire pit, by the hot tub, barbeque kitchen area etc. Showing how it can be moved and used in different spaces is a game changer and they will understand potential clients will understand it immediately. It is also beneficial to use the 360 swivel to show how by simply moving the TV a bit they can maximize just a few spots to view the TV in so many seating areas. 
If you enjoyed this article and want to receive more valuable industry content like this, click here to sign up for our digital newsletters!