Just because the world is returning to some level of normalcy doesn't mean people won't continue to work from home.
Whether it is a full-time work from home (WFH) schedule or some type of hybrid work schedule where people split their work week between home and the office, working from home in some form is here to stay. Helping today's workforce to work from home without sacrificing efficiency and functionality is the electronics company IOGEAR.
IOGEAR offers everything from KVM (keyboard, video, mouse) and extenders, to headsets and networking products. One of the company's most popular line of products is its docking stations.
Offering a complete selection of docking stations for any number of usage scenarios, these solutions have grown increasingly important over the past couple of years due to the rapid adoption of unified communications for work from home and hybrid work schedules.
Sending me the Dock Pro USB-C Docking Station with Power Delivery 3.0 (GUD3C05), I used the product in place of a portable USB-C hub from IOGEAR that I had been using for work activities that include podcasts, writing, and everything else that is expected from me during the course of a normal day.
In this updated Wage & Salary Report, you'll find out results for salaried occupational categories broken down by 14 regions of the U.S. & Canada. Uncover valuable information about where your company stacks up when it comes to paying your important people by
downloading your free copy today!
IOGEAR (GUD3C05) Features and Setup
As I noted earlier, unlike my portable USB-C connector, the GUD3C05 is more of a desktop solution. With that being said, however, it could be a travel solution; realistically it's not that big. The docking station offers the ability to dock up to 10 devices with the ability to pass along 85 watts of power, and Ethernet connectivity.
Other connections the GUD3C05 offers include 3.5mm audio, USB-C, micro SD, SD/MMC, Mini DisplayPort, HDMI, USB-C PD pass-through, and three USB-A inputs.
Defining the power capabilities of the product, IOGEAR says users can dock and charge their laptops or tables using the devices' supplied power adapters to deliver up to 85 watts of power, which I mentioned earlier.
The company also explains the docking station's Fast Role Swap technology maintains power levels anytime it detects a drop below a set threshold such as unplugging a laptop or tablet's USB-C power from the dock during a power failure type of event. IOGEAR also says the GUD3C05 also supports 4K via its HDMI or Mini DisplayPort connections, as well as 1080p via its VGA connection.
Setting up the docking station is easy. I use a MacBook Pro, so this type of product is absolutely necessary if I am going to use any peripherals such as a mouse or if I wanted to connect a display.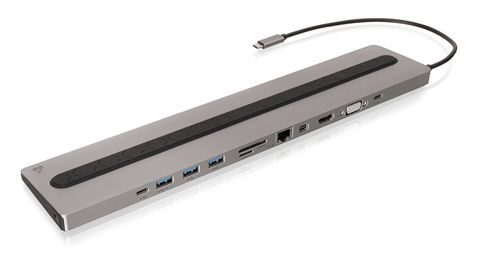 To get going with the docking station I ran the USB-C power adapter that came with my MacBook Pro to the power pass-through USB-C input, which is located next to the VGA port.
Next, depending on whether I am in the office or working from home, my setup is a little different.
At home, I connect a Universal Audio Volt 276 interface via one of the docking station's USB ports. The Universal Audio interface supports the connection of my Lauten Audio large-diaphragm condenser microphone and a pair of OSD Black active speakers (review to come) or a set of Adam Audio active monitors.
This configuration allows me to enjoy pristine audio quality for recording podcasts or music, or simply listening to content from YouTube.
Additionally, I connect a wireless mouse Bluetooth transmitter for the convenience of using a wireless mouse.
In the office, I use a more streamlined setup with just the mouse with either an AudioQuest Dragonfly DAC and Audio Technica earbuds or a set of EPOS wireless headphones for conference calls that includes Zoom and Teams.
Setup for both configurations takes a matter of minutes.
IOGEAR Docking Station Performance and Final Thoughts
I think one of the most overlooked aspects the GUD3C05 brings to the table when compared to some USB hubs or docking stations is the fact that it resides underneath a computer, which means it saves valuable desktop space.
For my purposes, which include the aforementioned conference calls, as well as marking up videos, web posts and using various Microsoft programs, the IOGEAR product complements my daily activities perfectly.
I like the fact that it does reside underneath my computer to save me some desk space where at home for example I have the OSD Black speakers, the Universal Audio interface and Lauten microphone also on my desk.
All of the inputs have worked for me without any issue, and I have not had any issues with power to my MacBook Pro using the USB-C power pass-through connection.
The only slight little annoyance with the IOGEAR GUD3C05 docking station is the USB-C connector that runs from the docking station to my computer does not fit as tightly as I would like. My USB-C power cable seems to fit a bit more snuggly, but it's a minor complaint.
Ideally, it would be nice if the dock had more USB-A connections too. I think I am like a lot of people working from home in that when I do conference calls or record podcasts my lighting isn't great. To compensate for my lighting I've added inexpensive USB lighting to my desktop area, but because I don't have enough USB connections I have set up a powered USB hub for the lighting.
Putting my minor complaints aside, between the GUD3C05's overall wealth of connections, along with its ergonomics and space-friendly options, I think the IOGEAR docking station is a nice little companion accessory to help foster productivity in today's WFH and hybrid work environments whether you work in the office or you throw the docking station in your backpack and work from home.
More news from CE Pro: VOXX's Premium Audio Brands Report Record Sales Year
Summary
Supports up to 85 watts of power delivery to connected laptops
Inputs include HDMI, Mini DisplayPort and USB-C
Ethernet connectivity
SD/MicroSD Card Reader
Silicon feet prevent the docking station from moving around
MSRP is $180
Pros & Cons
Pros
Three USB-A 3.0 ports, including one with a 1.5A charging port supports a choice of USB connections
USB-C port supports power pass-through for computer power supplies, including MacBook Pro
The GUD3C05 saves desktop space in home office environments
Cons
The USB-C connector cable that connects to computers could fit more securely
One more (a total of four instead of three) USB-A connection would be nice to support lighting, microphones, speakers and other devices