Leveraging its more than two decades of pro AV and data connectivity design and manufacturing experience, DVDO has announced its full lineup of professional-grade cameras, AV switches, splitters, matrices, extenders, and controllers are now available in Europe through Audio Pro Heilbronn Elektroakustik GmbH.
According to DVDO, the partnership augments Audio Pro's portfolio of global AV brands and expands its reach into European DACH (Germany, Austria, Switzerland) and Benelux (Belgium, the Netherlands, Luxembourg) regions.
"DVDO cameras, AV infrastructure, and data connectivity solutions perfectly complement Audio Pro's leadership in high-end audio and support for live and installed audio systems," sats Audio Pro Managing Director Christoph Keller.
"DVDO products enable our extensive network of dealers in DACH and Benelux countries to expand into new vertical markets in education, business, government, and public venues."
Founded in 1998, Audio Pro Heilbronn Elektroakustik GmbH is a distributor for professional audio and video technology representing global brands that include AKG, JBL and AMX. In addition to audiovisual technology solutions, Audio Pro's professional consulting and support services include its own training academy, cooperative marketing, and value-added system integration.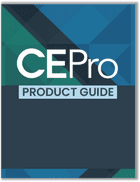 CE Pro's 2022 Product Guide showcases some of the latest and innovative solutions from manufacturers serving the custom electronics industry in a cross-section of categories.
Download the guide now!
"DVDO's partnership with Audio Pro kicks off an aggressive worldwide expansion plan, drafting off our success in the Americas," comments Doug Fealtman, CEO, DVDO.
"We are proud to be partnered with the preeminent pro audio distributor in Germany, to provide high performance, reliability, and value in professional imaging, video, data, and audio installations for European AV customers."
DVDO adds that its full line of Pan / Tilt / Zoom and auto-tracking professional cameras, as well as HDMI, USB, HDBaseT, and KVM switches, splitters, matrices, extenders, controllers, and accessories are in stock and available from Audio Pro immediately.