If you haven't noticed, AVIXA CEO David Labuskes is an overwhelmingly positive person, so it's probably no surprise he's focused on "the better normal" emerging from the coronavirus pandemic—and he sees the AV industry playing an important role in what's ahead.
"We're living a real-time experiment," said Labuskes in his opening remarks during his InfoComm 2020 Connected keynote. "This kind of InfoComm has never been done before and that's the exciting part for me."
Labuskes recalled the keynote from InfoComm 2019 by QSC's Joe Pham that included mentions of "Game of Thrones" and "Avengers: Endgame" and noted the AV industry has a chance to be "heroes" as the world continues to recover from the COVID-19 outbreak.
"Everyone is going to rely on this industry to help them engage with their customers differently," said Labuskes. "That's going to demand creativity on our part to help bring the crowds back.
"We have to abandon the assumptions we had before and find new ways to create and deliver exceptional experiences. This is something we were made to do. As you take away new skills and learn about new products, use those for the better normal by leveraging the power we all have," he said.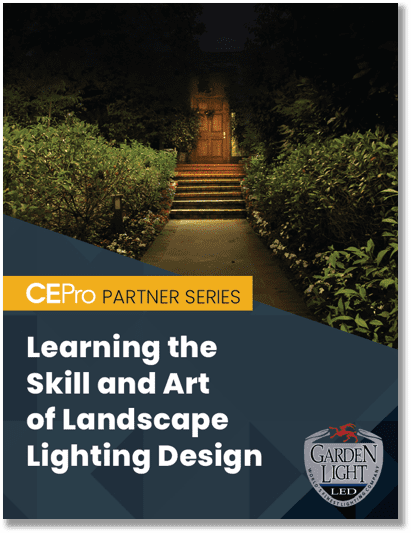 Experts recommend landscape lighting design as an entry point for integrators into the revenue opportunity of home lighting. Check out our new resource for tips and best practices. Download "
Learning the Skill and Art of Landscape Lighting Design
" today!.
Las Vegas Convention and Visitors Authority chief marketing officer Kate Wik notes "technology plays a role in enhancing experiences" across that city, which was supposed to host InfoComm 2020. "Las Vegas has always been ahead of the curve."
As Vegas begins to reopen, more of the resorts on the Strip are enhancing their mobile apps to allow guests to check in with their phones and use them as their room keys, said Wik.
The city is also involved in a long-term transportation project that will bring an underground autonomous train system as part of the Vegas Means Business initiative.
"Technology will enhance the in-person experience, but it will never replace it. Where we've come because of technology has really enhance the Vegas experience and helped us with storytelling and marketing," said Wik.
How AV Will Enhance 'The Better Normal'
Almo executive VP and COO sees several areas where the AV industry will be heavily involved as people try to return to some sense of normalcy in the recovery phase, including thermal scanners, digital hand sanitizers, distance learning, esports, streaming, meeting rooms and unified communications systems.
"Pro AV is going to change rapidly," said Taylor, noting he sees a W-shaped recovery with a second dip in about six to nine months. "This industry is resilient. I think we've hit the trough for now, but companies have been focused on getting their people back to work, not refreshing their conference rooms."
Managed services is an area that can help to bridge the revenue gap, said Taylor, and integrators are slowly becoming more receptive to the idea of selling services and solutions rather than specific AV technology.
Labuskes sees virtual events as a staple of the AV industry going forward, saying they're "here to stay," although he doesn't know whether most exhibitors will choose them as a primary option. He said people are at various stages, from allowed to go out to willing to go out to wanting to go somewhere.
"We're going to have a hunger for the connections we've had before," said Labuskes. "We're going to get there at different paces. We're going to have to be more rigorous about why we're getting together."
---
This article originally appeared on our sister publication Commercial Integrator's website.