SmartRent (NYSE: SMRT) has recently partnered with Leaf Living on the development of two rental properties in the UK. A specialist provider of professionally managed, sustainable, newly built homes and communities across the UK, Leaf Living will be using SmartRent as the main automation platform for state-of-the-art smart living experiences at its forthcoming properties in Essex and West Sussex.
An enterprise smart home company, SmartRent develops software and hardware aimed at providing property owners, managers and homebuilders the means to manage, protect and automate daily processes. This in turn provides tenants with an array of convenient smart home capabilities for their units, such as smart lighting, access control, smart heating and cooling, and more.
"Leaf Living offers a new way to rent a home. Our secure tenancy options and deposit-free schemes give our residents certainty and control, while the option to decorate and bring your pets with you truly makes a Leaf Living house a home," Tiffany Harrison, head of lettings at Leaf Living, commented.
"Partnering with SmartRent is our latest initiative to meet the needs of our busy residents, especially during a time when energy costs are a concern. This technology makes day-to-day living more convenient and could mean potential cost savings too, with residents able to control their heating from their phone, away from the home. The technology also ensures that we are in the best possible position to maintain our properties efficiently and effectively."
SmartRent Delivers a 'Modern Living Experience'
Using SmartRent's platform, residents at the new properties will be able to control a variety of home elements from their phones. Just starting at the front of the property, residents can lock and unlock the front door and generate one-time access codes for visitors. Residents will also be able to control heating settings, while a Ring camera and alarm provide extra layers of security.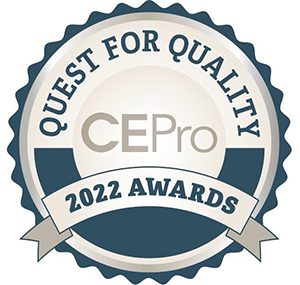 CE Pro urges integrators to recognize their suppliers that go above and beyond to deliver premium support and service. Cast your vote today to recognize the services (not the products) from your favorite manufacturers and distributors.
Cast your vote today!
"Today's residents actively seek out properties that deliver a modern living experience, and site teams caring for the properties benefit from the efficiencies that smart technology brings," Muir Baxter-Yiannou, SmartRent's UK sales director, said. "We're pleased to work with Leaf Living to bring solutions to their properties that make life easier for all users."
Additionally, Leaf Living's property managers will be able to use SmartRent's platform to remotely monitor utility systems serving the homes and call for maintenance as issues arise, ideally before residents are even able to notice a critical issue with the systems.