Duncan Wardle spent 25 years at one of the most innovative and creative companies in history – Disney – and now as founder of the Innovation Catalyst spends time telling stories and sharing secrets about how to stay creative and innovative.
In fact, Wardle was longtime VP of Innovation & Creativity for Disney, so it's not surprising that one of his Integrated Systems Europe 2020 keynote themes involved shouting out traits of children. They're curious … imaginative … fearless … they keep asking "why?" after you've given them several answers.
And when you get them a shiny new toy and take it out of the box, they'll choose to play with the box. Instead of one toy, it can serve as anything the kid wants it to be. "It's your castle, it's your fort, it's your rocketship," he says.
"Children think expansively," Wardle says. "Adults think reductively."
Wardle's entertaining and interactive presentation at the Amsterdam RAI, where 80,000+ technology innovators will attend ISE 2020 this week, explained that company leadership, in particular, can learn how to incorporate playfulness, mindfulness, collaboration … and curiosity.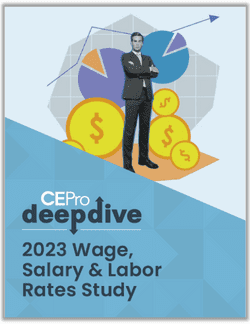 Discover the drastic difference a year can make when it comes to wage, salary, and labor rates in the custom integration industry.
Embrace Your Inner Creativity
"Insight for innovation comes on the fourth or fifth 'why,' but your data only stops on the first 'why'," says Wardle, who after his Disney career founded iD8 and innov8.
As we grow up, we lose a lot of that child, but leave it to someone who lived and breathed Disney for 25 years to help bring that imaginative side out and remind us that we all still have some child-like mentality still in us.
Because we're more creative than we think we are, Wardle notes. Only about 5% of the crowd raises a hand when Wardle asks at this and similar keynotes if attendees think they are "creative people," he estimates.
But in one of his interactive exercises he had groups of three each pretend to be an expert in a particular field, answering interview questions from the others. For example: "You are an expert in creating parachutes for elephants," was one Q&A topics, and as the questions were being asked, the person had to think quickly to make up responses. The other two fields of expertise were "you are the inventor of invisible clothing," and "you are a sex therapist for honeybees" as the exercise rotated the interviewee in the "expert" role.
"You say you aren't creative, and yet you all did very well at selling that bulls**t," he observed.
In other group exercises, Wardle demonstrated how creativity and potential innovation get stifled, and one way to help avoid it, particularly in the workplace.
He had people pair up, and let one of them pick a theme for a party and the other ask about ideas for building a big party around that theme. The first go-around, those who chose the theme would shoot down every idea with a response that started "No, because …" with a made-up explanation. (Example: it's a Star Wars party … how about making the room look like the Death Star? No, because the room is way too small.) In the next turn, people switched roles and this time were asked to answer "Yes, and …" to the ideas with an explanation.
During the latter exercise, the thinking was expansive rather than reductive, and there was more energy and laughter in the room, Wardle notes. "Ideas get bigger, and more importantly, whose idea was it? It went from 'my' idea to 'our' idea."
When employees go to leadership with ideas and are shot down every time with a "No, because" or a "yes, or" instead of a "yes, and" response, not only is creativity stifled but the employee isn't going to want to stay in that environment.
Open the Door to More Brainpower
However, when asked about where we come up with our best, most creative ideas, "the two words I'll never hear are 'at work,'" Wardle says. In the shower, the car, on a walk, a bike ride … these are common responses.
He likened it to when we're in an argument with someone and it's not until after the argument is over and where somewhere else that we come up with a perfect one-liner response. We've had time to be alone with our thoughts.
It goes for our best ideas and potential innovations. We're too busy doing other things at work to have time to be mindful, and mindfulness can lead to great things.
"So, how do I get you to that mental state at the office," he asks. "All I have to do is open the door between your conscious and subconscious brain.
"Why did I ask you to be designers of parachutes for elephants? All I was doing was waiting for laughter, I knew I'd opened the door between 'busy beta' and 'amazing alpha' – busy beta is the brain state where you're at work and you don't have time to think," he says.
"Guess what? Eight-seven percent of your brain is subconscious – you're only working with 13% of your capacity 95% of the working day. But the moment you step into the shower, the moment you've walked away from the argument, boom, you move over to amazing alpha – I can still make an informed decision, but I can have a big idea."
When Wardle asks to name companies commonly thought of as the most creative and innovative, he says Google gets mentioned a lot, notes that Google gives its engineers time during the day just to sit and think.
Take a Different Perspective
Along with figuring out how to devote more time to think, companies need to help foster employees to get out of their "rivers of thinking," that keep us stuck in our ways with what we know rather than take risks on breaking down barriers that we don't know. It's more important than ever right now, though, because of the level of rapid disruption happening, he says.
Wardle gave a presentation for Stanley Black and Decker, for instance, in which he was trying to convey that the brand needed to go beyond thinking of itself as a provider of just chisels and hammers and other tools. "We're the company that helps you build the house of your dreams," he says is the real message the company should be conveying.
Leaving your river of thinking can mean challenging the common rules that we think we can't break when we have an idea. But that's how people like Netflix's Reed Hastings turned the Blockbuster model on its head, by listing the rules one had needed for renting a movie and figuring out how to break them. From Disney, Wardle cited a couple of examples showing how different ways of thinking and considering the customer experience have brought about huge innovation.
When Walt Disney wanted moviegoers to experience Fantasia with effects like mist and heat during certain scenes to happen inside the theater. The theater owner said that couldn't happen because it would be too expensive, so he thought about other ways to turn movies from a 2D to a 3D experience. Of course, that led to the idea for creating a place people could go and see a land of Disney characters.
And Disneyworld and Disneyland don't have "employees" and "customers" but rather they have "cast members" and "guests," Wardle says, in another way the company took a different perspective. He says a recent innovation came about because of how Disney looked at its guests' pain points. Investing in software instead of just looking at new rides led to implementing RFID bracelets that guests could wear for ease of resort check-in, getting around long lines inside the parks, etc. It's helping to give customers more time back in their days.
"And what do people like to do in their spare time," he asked, with "shopping" quick to come from the audience. Not only that, but the RFID tags give Disney huge amounts of data to further analyze its resorts.
If you enjoyed this article and want to receive more valuable industry content like this, click here to sign up for our digital newsletters!