CE Pro parent company Emerald Expositions and the National Kitchen & Bath Association (NKBA) recently announced plans to co-produce a new conference — Design + Tech Connection— geared to design and construction professionals and home technology integrators. The conference, powered by the NKBA and Emerald-owned CE Pro and KBB, will bring the brightest and most provocative minds from design, construction and technology together to inspire collaboration and partnerships between brands, specifiers and installers.
"Residential consumers continue to demand more complex, seamless design integration in their homes," says Bill Darcy, CEO, NKBA. "Our NKBA 2018 and 2019 Kitchen and Bath Tech Awareness & Usage market research studies confirm consumer desire and willingness to adopt better, faster and more complex whole-home integration systems. They are looking for trusted professionals from the design, construction and tech integration spheres to work closely together, for harmonious design and installation of these systems."
Conference Programming
The conference is being developed with an eye toward educating the interior design, kitchen and bath design and building communities about the speed at which the tech field is evolving and how to smartly design residential spaces with authority and confidence. Julie Jacobsen, founding editor of CE Pro; Chelsie Butler, executive editor of KBB (Kitchen & Bath Business), the official publication of the NKBA and Kitchen & Bath Industry Show, and other industry experts will lead conversations, panel discussions and presentations on the Internet of Things (IoT), home automation, security, wellness-related technology, principles of good design integration and how to create a smart business partnership to deliver beautiful and functional residential spaces.
"We are honored to partner with the NKBA to produce this important new conference," says Brian Pagel, EVP, Emerald Expositions. "Our collaboration is a strong one. For over 30 years, we have produced the Kitchen & Bath Industry Show for the NKBA and publish KBB (Kitchen & Bath Business), the official media partner of the association.
"Our more than 100,000 design, construction, technology and home automation contacts will appreciate the opportunity to learn about and participate in this new collaboration. Additionally, as the owners and producers of CEDIA Expo – the event for the residential custom technology professional – CE Pro and Total Tech Summit, we are uniquely positioned to bring all interested parties into one solid location to learn, share and understand where residential integrated technology is headed."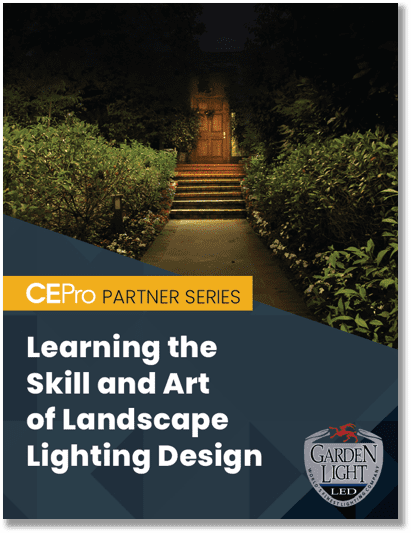 Experts recommend landscape lighting design as an entry point for integrators into the revenue opportunity of home lighting. Check out our new resource for tips and best practices. Download "
Learning the Skill and Art of Landscape Lighting Design
" today!.
Location and Registration
Design + Tech Connection will take place on Dec. 11, 2019, at Convene, 117 West 46th Street, New York. This fresh meeting and event space will host a full day of programming beginning at 8:30 am and will close with a cocktail and networking event. Registration opens Oct. 15. Space is limited. To stay current on programming and participants, please visit here.