Recently, CE Pro sat down with Ryan Donaher, Vice President, Meridian Audio, to discuss the company's CEDIA Expo 2019 plans and its upcoming course offerings.
---
What would you say to dealers who are stumbling across your company for the first time?
Meridian has been crafting innovative, elegant, high-performance audio solutions since 1977. In the past 40+ years, the Meridian brand has become synonymous with many significant firsts that have shaped how we experience, engage, and respond to sound and music in the home.
Through constant development, evolution, and refinement, Meridian has worked to create compact hardware and speakers, while simultaneously advancing the capabilities of our processing technology to increase the quality of audio output. From our flagship DSP loudspeakers with integrated amplification, to our discreet and powerful range of in-wall loudspeakers, we deliver easy to install, high-resolution audio systems for home cinemas and whole-home solutions.
The number of unique technologies that have been developed by Meridian over the course of the company's history is impressive in itself. That these technologies have set standards for the rest of the industry goes even further to prove a reputation for innovation and the pursuit of perfection.
As well as designing and manufacturing the very best products, Meridian further supports the industry with design, training, and event support initiatives and has developed new partnerships with other manufacturers to provide our dealers with easy access to a wide product offering.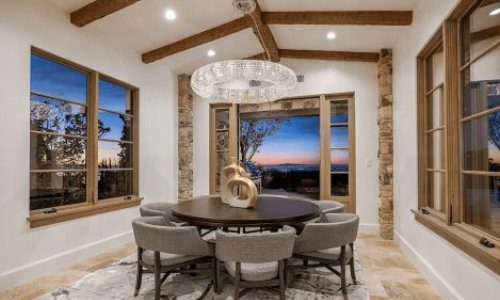 As a custom integrator, lighting is in demand. Effective communication, education and showcasing the value proposition of LED light fixtures in conjunction with integrative control systems are the keys to overcoming challenges and closing sales in this specialized market. Join us as we discuss the future of digital lighting and control with David Warfel from Light Can Help You and Patrick Laidlaw and Mark Moody from AiSPIRE.
Register Now! 
Meridian remains at the forefront of innovation, with no signs of slowing down.
---
What would you say to dealers who are already familiar with your product line?
You are aware of our product offering, but do you know about the dealer resources that we have created to make your job that bit easier? In particular, the Meridian Design and Specification Service.
The complimentary Design and Specification Service integrates Meridian and all of our partners' technologies (Barco Residential, Cinema–ATS, and DT Screens) to make it quicker and easier for integrators to specify the right products for the installation, freeing up valuable time for them to concentrate on other aspects of the project. It gives integrators more confidence when specifying these systems, created to offer reliable, repeatable, high-performance systems not just in the cinema room but also around the home or yacht.
Meridian expanded the service by giving integrators the option to create their own instant cinema and media room designs using The CEDIA Designer software. As an extension of Meridian's renowned Design and Specification Service, the software provides 3D arrangement of speakers, in alignment with industry standards, incorporating the guidelines from Dolby and the CEDIA white paper on speaker positioning.
---
If a dealer/integrator stops by your booth with only 5 minutes to spare, what's the one product he should examine or one question he should ask?
We recently launched a new range of architectural speakers and will be demonstrating the DSP640.2 In-Wall Loudspeaker in a 9.4 set up in the Barco theatre on Booth 3030.
Characterized by their high SPL's and strong bass performance capabilities, the DSP640.2 is the first to be powered by the new Meridian 'CLASS-M' DSP engine. The double precision Aux filter improves resolution on low frequencies, and the built-in Dynamic bass protection technology maximizes bass extension, achieving the finest possible audio outcome.
It is also the first to integrate Meridian's 'DYNAMIC' Hi-Res amplifiers, for renowned audio quality in a wide range of installation applications. Each drive unit is driven by a pair of powerful, high bandwidth, ultra-HD amps for guaranteed performance and complete control, exceeding the Hi-Res audio standard.
The amplifier's high mass toroidal transformer is electrically screened, potted, and optimized for the lowest possible mechanical noise, whilst post filter feedback delivers lower output noise and improved total harmonic distortion (THD), allowing even the smallest details to be heard. This new feature also provides greater control, accurate detail, and precise spatial resolution.
The new DSP640.2 In-Wall Loudspeaker features eight power amplifiers delivering 100w per drive unit and L + R mode for the ultimate, high-power soundbar applications. It is capable of delivering over 105dB over 4m, providing full range sound with bass extension down to 40Hz, together with Meridian's on-board Enhanced Bass Alignment that aligns high, mid, and upper bass frequencies with the low bass for added clarity. Meridian's proprietary Centre Elevation technology raises the perceived image location from an under-screen loudspeaker so that it appears to come from the centre of the screen, resulting in lifelike and spacious sound.
With a range of other enhancement technologies including FIFO buffering, DSP upsampling, apodising Filters, and MHR (Meridian High Resolution) built-in, the DSP640.2 can be used as a full-range loudspeaker with no need for an additional subwoofer, offering greater flexibility and the best possible performance from all digital sources.
With a mounting depth of just 100mm, the DSP640.2 is perfect for delivering discrete yet impactful sound in any home cinema or media room application. Its sleek, slim profile and frame system allows for easy installation and precise positioning on almost any type of wall, whilst the grille can be painted to blend seamlessly into any interior.
If you are going to ask us a question, get us to explain the High Performance Array set up and the benefits of this. But the best question is, 'Can I have a demo now?'
---
Think of your closest competitor (company or product). What is one thing you offer that they don't? Please be specific.
Unique to Meridian's DSP640.2, it is the first loudspeaker to be powered by the all new Meridian 'CLASS-M' DSP engine and the first to integrate Meridian's 'DYNAMIC' Hi-Res amplifiers. No competing product offers this.
---
What 5 hashtags would best describe your CEDIA presence?
#MeridianAudio #HiResAudio #HighPerformance #Loudspeaker #HomeEntertainment
---
Do you have any course offerings at CEDIA Expo?
Hugo Fitzjohn, Meridian education manager, will be running a session called "Delivering Success with Meridian 200 Series and Multi-Channel Solutions" on the Wednesday and Thursday.
The first half will explain how Meridian can deliver unique solutions for immersive audio systems and how to successfully enhance the profitability. Hugo will show attendees how the Meridian product range can simultaneously enhance performance whilst minimising rack space. If you are looking to make more profit with your next media room project, then we can share the secret with you.
In the second half, Hugo will change gear and get technical. We will be setting up the 218 Zone Controller, 251 Powered Zone Controller, 271 Digital Theatre Controller, and the 210 Streamer. We will show you all you need to know to get these products hooked up to the network and easily configured to guarantee install success.
If you enjoyed this article and want to receive more valuable industry content like this, click here to sign up for our digital newsletters!