Celebrating the most noteworthy new products and technologies of 2019, CE Pro is pleased to announce the winners of this year's CE Pro BEST (Best Electronic Systems Technologies) Product Awards.
"The BEST Awards offer an incredible glimpse into the future for the entire residential integration industry," says Jason Knott, editor-in-chief, CE Pro.
"Some of the products and technologies that integrators now consider mainstays to their businesses made their first appearance in the market via the BEST Awards. These entries truly represent the cutting edge of technology."
All entries were judged on innovation, functionality, competitive advantages and benefits to the installer by a dozen credible industry leaders, along with the editors of CE Pro.
CE Pro is presenting the BEST Product Award winners at 10:45 a.m. on Thursday, September 12 on the Tech Talk Stage at the CEDIA Expo in Denver.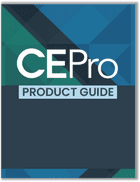 CE Pro's 2022 Product Guide showcases some of the latest and innovative solutions from manufacturers serving the custom electronics industry in a cross-section of categories.
Download the guide now!
Winners' products and technologies, as well as all entries, will be featured in the November issue of CE Pro magazine.
---
BEST Product Winners
---
Business Operations
---
Business Software and Design Tools
Modus VR
Modus VR
---
Control and Automation
---
Energy Management
Alea Labs, Inc.
Alea Air
Integrated Security System/Module/Device/Surveillance Cameras
Clare
ClareONE
Lighting, Lighting Controls & Accessories
Holm
ZDClink Controller
Motorized Shade Controls & Accessories
Somfy Systems, Inc.
Sonesse 30 WireFree Zigbee Li-ion
User Interface Devices (Touchscreens, Keypads, Remotes, Voice Control)
ELAN
Intelligent Touch Panels
Wellness
Delos
DARWIN Home Wellness Intelligence
Whole House Control
Control4
Control4 Smart Home OS 3
---
Home Theater/Multi-Room AV
---
AV Switchers
Just Add Power
3G+ 767DSS Dante Sound System Transmitter
Flat Panel TV/Ultra HD
LG Electronics USA
LG 88-inch OLED 8K TV (OLED88Z9PUA)
HDMI/HDBaseT Extenders
HDFury
Maestro
Home Theater AV Receivers & Source Components
Denon
AVR-X3600H
Media Servers/Streaming Media/DVRs
Red Carpet Home Cinema
Red Carpet Home Cinema Media Server
Mount/Lift/Media Concealment
MantelMount
MM860 Robotic Mount
Multi-room AV Components (Amplifiers, Receivers, Source Components and Preamplifiers)
AudioControl
Avalon G4
Power Management, Generation, Surge Suppression and Storage/Remote Services
Savant
Savant Breaker-Companion Modules
Projection Screen
Da-Lite
Parallax Stratos 1.0
Projector
Barco Residential
Bragi Cinemascope
Racks, Furniture, Seating and Acoustical Treatments
Aegis AV Cabinets
Hephaestus | Ultra Short Throw Series AV Mantel
Wireless A/V Solution (Amps, Source Components, Signal Distribution Solutions)
IOGear
Ultra-Fast 60 GHz Wireless 4K Video Extender
---
Household Enhancements/Installation Accessories
---
Cabling and Cabling Products
Cleerline Technology Group
Cleerline SSF 4K UHD HDMI Active Optical Cables
Communications Products
AlltecPro
AV LinkPro
Home Networking Device
EnGenius Technologies
ESR580 Tri-Band Smart Mesh Router
Outdoor AV
Coastal Source
12.0 Line Source Bollard
---
Loudspeakers
---
Architectural Speakers (TIE)
Nuvo
Nuvo 8-Inch Passive Subwoofers and Digital Amplifiers
JL Audio
JL Audio Fathom ICS-SYS-108
Meridian Audio
Meridian DSP640.2 In-Wall Loudspeaker
Klipsch Audio
Klipsch Professional Series Reference Minimal Footprint series speakers with SkyHook Cinch by Swarm Technology
Floor-standing/Book Shelf Speakers (TIE)
Atlantic Technology
FS-252 Wireless SKAA/Bluetooth Active Multi-Room Stereo
Polk Audio
Legend Series
Soundbars/On-Wall/Single-Chassis Surround Loudspeaker
Samsung Electronics America Inc.
HW-Q90 Soundbar
---
Most Promising
---
LG Electronics USA Business Solutions
LG Transparent OLED (55EW5F-A)
---
Object-Based Surround Components
---
Pro Audio Technology
ALC-3316
---
Peripherals and Enhancements
---
Vanco International
Beale Street Audio Pendant Speaker Enclosures
Intellithings Ltd.
RoomMe
Panamorph
Paladin DCR Lens
---
Tools, Testing and Calibration
---
Metra Home Theater Group
HDMI All-in-One Correction Tool (HDM-AIO2)
---