A Better Alternative to HDMI Over IP Systems
AV over IP is the go-to choice for many integrators when putting together a system for a bar, restraurant, retail store, or a multitude of other applications. But is it the best option?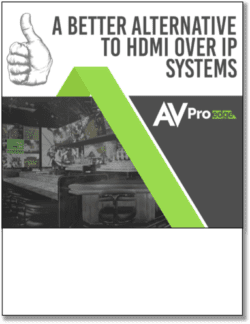 AV over IP makes use of a technology that was originally designed to move email and business data through a network; NOT video and audio data. This creates a number of headaches when setting up and using a system.
This new guide "A Better Alternative to HDMI Over IP Systems" provides an overview of the current AV over IP hurdles, including:
Highly complex setup and configuration
Multiple points of system failure
Brand management and integration issues
It also introduces you to a new alternative called AVPro Edge CLOUD 9. This is an HDBaseT solution that allows you to utilize nine sources and distribute them to an unlimited amount of displays. Get your copy today and learn how this new technology could help solve your AV network problems.