2019 Projectors and Displays Special Report
What do integrators want in projectors & displays?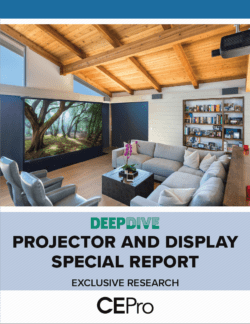 This CE Pro exclusive research reveals information on what custom integrators seek for in-home theater projects as well as expectations for margins, pricing and number of installations. With the emergence of 4K and now 8K in custom installations, integrators are realizing higher margins again with an average profit of 32% on projectors/screens.
The report also provides information on:
The most preferred brands for projectors, TVs and screens
How to select the correct projector/screen for a particular project
Which features integrators want for their TVs and projectors
Get your copy today to learn how to stay at the forefront of custom installation for projectors and displays.