2019 Outdoor Tech: Special Report
Find out why 63% of integrators expect their outdoor business to grow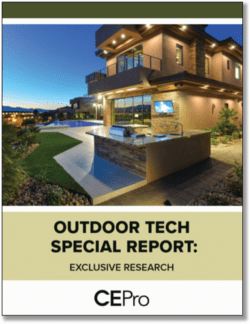 The outdoor technology market is growing – both the demand from customers and the array of products available. According to our recent CE Pro survey, integrators are taking advantage of this opportunity to grow their businesses.
Our new guide "Outdoor Tech: Special Report" delivers survey insights and our editors' take on this growing market. Find out the median price for outdoor tech installations as well as the most common components for outdoor:
Audio
Video
Lighting
Networking/Security
Our report also features the most installed brands by product category. Get your copy today and start growing your outdoor tech revenue.