2019 CE Pro 100: Download the Full Report
2019 mark's the 20th anniversary of our CE Pro 100 list of top revenue-generating home-technology installation firms. Download the complete report here for the list of firms and statistical breakdowns of performance.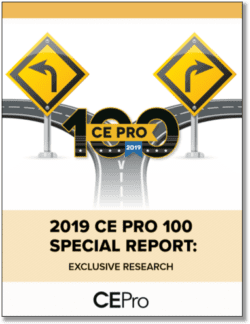 CE Pro's 20th annual list of the highest revenue custom installation companies reports $2.02 billion in custom revenues, plus 13% growth predicted for 2019. A growing trend among the companies on the list is RMR.
For 2019, CE Pro 100 members report earning an average of 7.1 percent of their revenue from RMR. You can see the impact of RMR most apparently at the top of the list where one player for instance reports 92% of its $1 billion+ revenues come from recurring services.
Find out what company this is, what your local competitors are doing and while you're at it, take a look and see if your firm is included.
Get your copy of the 2019 CE Pro 100.