14 Reasons Why Your Home Needs a New Security System
If your customers have been debating whether or not to make the investment in a smart home security system, here's a free guide to help.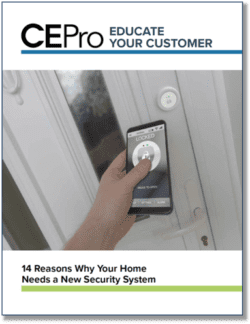 Security systems have been around for decades protecting homes and families quite admirably. They watch for break-ins and fire, sounding an alarm at the first sign of trouble. They call out to central monitoring stations, which dispatch the appropriate emergency responders. It's the core competency of any make or model of home security system, but you can realize so many more benefits from today's generation of home security systems.
For example, during an emergency situation, the security system can signal select lights to flash, and when there's a fire it can override the heating and cooling system to prevent the spread of smoke. Systems today can dispatch alerts to your smartphone and respond to commands issued from your smartphone, no matter if you're down the street or halfway around the world. If your customer is on the fence about implementing a smart home security, this download can help.