RTI, a manufacturer of control and automation solutions, has announced that Jim Koenig has joined the company as U.S. Director of Sales, reporting to CEO Joe Roberts.
In this new role, Koenig will oversee the RTI sales, dealer experience, and training activities in the United States; work with the RTI leadership team to define the company's strategic direction; and develop new initiatives to grow the RTI and Pro Control brands. 
"Jim Koenig is well-known in the custom installation industry for his customer-centric sales leadership," states Roberts.
"It's that customer focus and his strategic vision that make him an excellent fit with RTI and our deep commitment to our dealers and distributors. We look forward to Jim's leadership as we continue to expand our presence in the United States."
Koenig has over 18 years of sales and management experience in the custom electronics industry. He comes to RTI from Vutec, where, as vice president of global sales, he was charged with creating momentum for the company's projector screen business. Prior to that, as vice president of sales and marketing for Screen Innovations, he helped the company to launch a new IoT window shade hardware and software platform, which just debuted as the number four brand in the CE Pro Brand Analysis survey.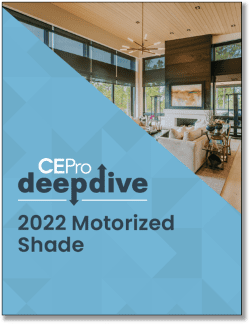 Motorized shading has become a staple of the custom integration industry with an expected 12.6% increase in business next year according to the recent CE Pro 2022 Motorized Shade Report. Motorized shades have proven to be a very lucrative addition to residential integration projects.
Download your copy today!
Koenig's previous roles included sales analyst consultant and regional manager for Legrand BCS and its Vantage and QMotion brands. He has also served as director of sales, Central, for Savant; and director of CI channel sales for the U.S. and Canada at Core Brands.
"RTI has a strong position in the control market and is developing new opportunities in AV distribution and other attach categories important to our dealers and their customers," Koenig comments.
"I'm excited to work with the team to chart our path forward and bring innovative new solutions to our integrator partners that help them win projects and deliver unmatched experiences for their clients."
RTI Hires Industry Veteran Hensley
More personnel news from RTI—the company has hired Bill Hensley as its new head of global marketing.
Hensley comes from Clare Controls, and prior to his position at Clare he worked for Nortek Security & Control (NSC) for a number of years.