Nortek Security & Control (NSC) has named Christopher Larocca as Chief Executive Officer (CEO) and Darren Learmonth as Chief Technology Officer (CTO). Larocca and Learmonth bring a demonstrated track record of outstanding business and technology leadership into their key executive leadership positions.
Larocca will lead Nortek's 700 employees across its Security, Control, Access and Digital Health business units addressing intelligent home and commercial automation environments. His proven executive leadership and expertise of instilling organizational excellence will help propel the company as it positions itself for future growth, according to the company. Larocca aim is to ensure the company's portfolio strategy, including its AI deep-learning video analytics software, and family of brands remain disruptive industry leaders.
"I am honored and excited to assume the CEO position at Nortek Security & Control. It's inspiring to join a company whose products have already made millions of consumers more secure and a leader in creating connected environments for a more personalized and intelligent experience," states Larocca. "From this strong foundation, I look forward to working with the exceptional professionals at NSC to implement strategies focused on strengthening our brand equity, delivering innovative solutions to the market and bolstering customer relationships."
Prior to joining NSC, Larocca was the CEO at Luminance Brands, a consortium of seven leading divisions that developed and manufactured lighting products, energy controls, connected home and smart lighting solutions. He has also held CEO and executive management positions at Dover Corporation, General Electric and EMCORE Corporation.
Complementing the appointment of Larocca, Learmonth joins the NSC executive leadership team as its new CTO. He is responsible for all engineering and product line management departments. Capitalizing on more than 25 years of experience in defining and quickly bringing new products to market, Learmonth will take a leadership role in executing the company's IoT, solutions-based strategies, including a list of product launches slated for this year.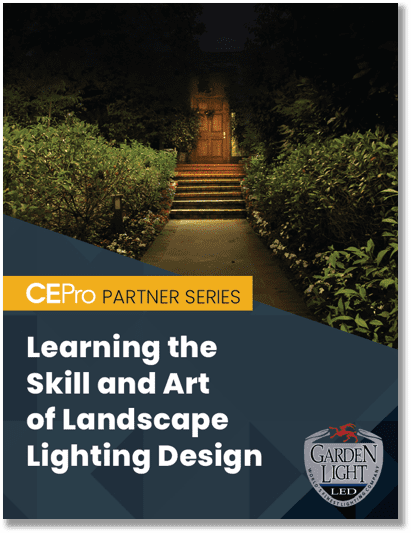 Experts recommend landscape lighting design as an entry point for integrators into the revenue opportunity of home lighting. Check out our new resource for tips and best practices. Download "
Learning the Skill and Art of Landscape Lighting Design
" today!.
"I am thrilled to join NSC at this powerful time in the company's history. We are on the cusp of product and feature breakthroughs where I will lead and help expedite our product development in order to keep pace with the rapidly evolving markets we serve," commented Learmonth. "My primary objective is to work with NSC's knowledgeable engineering and R&D staff to maintain the company's position as an innovator and industry leader while delivering advanced and differentiated products that help us meet our global growth targets."
Before joining NSC, Learmonth was a CTO at Assa Abloy, a leading global supplier of security solutions. In addition, he has held other CTO and senior vice president positions at HID Global and Thales E-Security.  He holds a degree in Microelectronics and Software engineering from the University of Newcastle upon Tyne. 
Larocca and Learmonth are both based at the company's Carlsbad, Calif. headquarters where Learmonth reports directly to Larocca.