Andrew Royall, whose UK firm Eclectic Home Technology has handled a good bit of work on yacht integration, sums up the marine segment thusly:
"This world is completely different, but it's exactly the same."
"It has its own language," Royall explains. "It has its own support network. It has its own requirements. It has its own foibles, but fundamentally it's a television on a wall, a CCTV camera, it's a music system. So it's everything that everything that an integrator does, but turned up to 11 and done on a different planet."
If an integrator is interested in tackling seafaring projects, there are a few things to know out of the gate. Some are pretty obvious: You'll need to be familiar with marine-grade gear, and you'll need to be comfortable working in extraordinarily tight quarters. Space is nearly always at a premium in these projects. "You've got to use racks that can pull out for service," notes Stephan Goodhue of New Zealand's Liquid Automation.
"You've got to understand how much heat is going to be generated and how it can be dissipated." And don't forget that the structure you're integrating is going to be moving, says Goodhue: "When you finish a house, it doesn't sail offsite and go bashing into waves."
Additionally, these vessels are often chartered: That means that any kind of user interface has to have the same level of flexibility and simplicity that one might find in solutions similar to those in the hospitality industry.
Remote Challenges of Marine Integration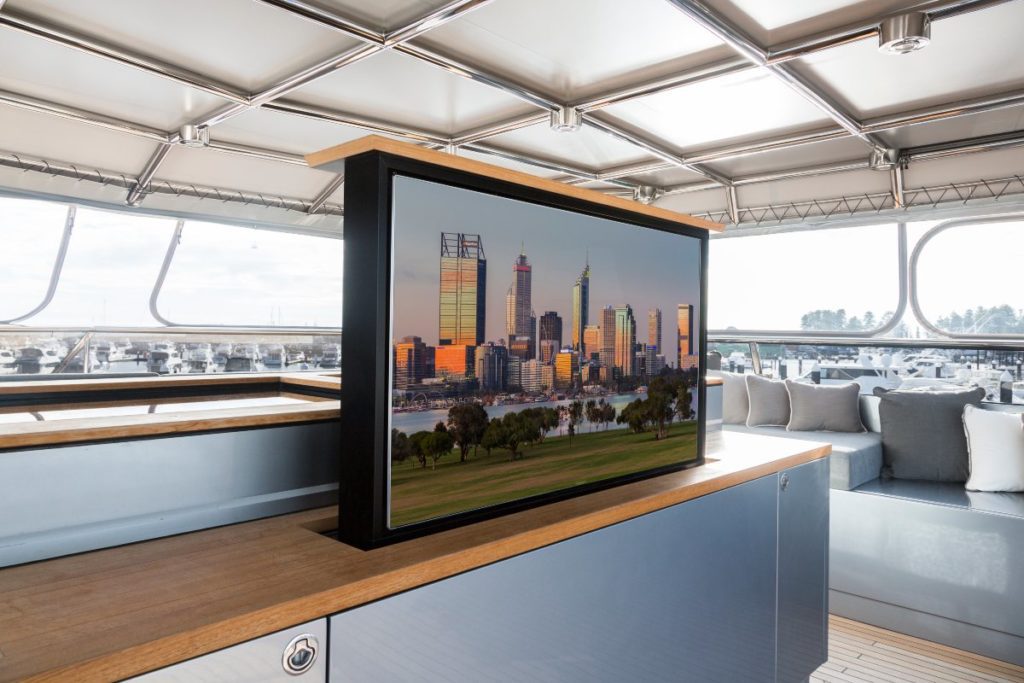 Beyond terrific UI design, remote access to troubleshoot a moving target is key – and that presents another universe of issues, not the least of which is internet speeds that can vary from place to place. "It's a matter of factoring the lowest common denominator," says Royall. "The people who are chartering these vessels are spending a fortune, and they have no patience for any failure of any kind."
This means that a great working relationship with the crew is critical. And among those who man these yachts, there's often a key point of contact. "A key differentiator between a yacht and a house is that you've got somebody that's actually on board as the chief engineer, who's actually pretty good at what we do anyway," says Royall.
"They're a jack-of-all-trades, but they are a fairly safe pair of hands to get in and roll up their sleeves and do some of the more simple patches. And they're willing to do it because it's in their interests to keep their yacht rolling at one hundred percent."
Power Shifts
Another consideration: While power stored aboard in batteries is fairly easily controlled, and while firms like Liquid Automation can separate power supplies for the audio-visual systems from, say, navigation or security systems, a vessel in port will be plugged in locally. Bruce Cox of Liquid Automation explains: "Europe is fairly standard. But then if they're heading off to America or heading off to the Caribbean, then you get some other sort of interesting funky anomalies along the way."
These are discussions that involve the tradespeople who are either building or retro-fitting the vessel: The folks at the shipyard. "If you're planning on leaving your yacht in Europe the whole time, great," Cox continues. "If you're going to take it to different voltage countries, maybe we need to have a bigger, better conversation with the shipyard as to how we manage that."
Goodhue adds that the conversation about different ports of call extends to entertainment solutions: "We are we certainly going to need to have to have a conversation about how we manage your television signals as you move from place to place as well."
---
Ed Wenck is the content director at CEDIA.
Projects pictured by Liquid Automation. Photos by Serena Pearce / Code Lime Photography.