The remarkable enterprise-class infrastructure solution for this BEST Project Award winning project included the design and delivery of a flexible and fault-tolerant main equipment closet (MEC) that services a 20,000-square-foot home, a vibrant business, and a world-class home theater.
"In Boca Theater and Automation's experience, the three cornerstones of any successful project in South Florida involve clean power, proper management of heat, and ANSI/TIA-certified copper and fiber terminations; enterprise-class systems add in redundancy where it matters," notes Marcio Gomes, marketing manager for the Boca Raton, Fla.-based integrator.
"To achieve this level of performance, the MEC and all endpoints are powered by a RoseWater Energy HUB20 system backed up by a large-scale generator."
The MEC is cooled using a dedicated air conditioner with four backup 300CFM exhaust fans triggered by temperature sensors. Both systems send alerts monitoring key parameters such as heat, moisture, incoming power, battery health, and more.
Every rack-mounted device can be individually rebooted using the custom-designed touchpanel interface, or from 64 labeled buttons on the user side of the rack, he says. BTA designed patch bays provide professional landing points for 11.7 miles of low-voltage copper and fiber runs. Each termination was tested using a Fluke DSX-8000 system following extended ANSI/TIA guidelines for 10GB permalink installations.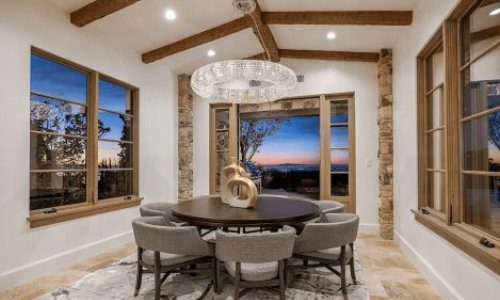 As a custom integrator, lighting is in demand. Effective communication, education and showcasing the value proposition of LED light fixtures in conjunction with integrative control systems are the keys to overcoming challenges and closing sales in this specialized market. Join us as we discuss the future of digital lighting and control with David Warfel from Light Can Help You and Patrick Laidlaw and Mark Moody from AiSPIRE.
Register Now! 
Noah Strattan served as BTA's lead technician, backed by more than a dozen BTA team members assisting on the massive project.
"There were multiple challenges in this project that involved constant communication with the homeowner, detailed engineering, and precision execution," Gomes says. The residence was undergoing two major renovations: The addition of a building to support a business, and the addition of a theater, his and her studies, and an equipment room.
"Moreover, the business was running at an offsite location and needed to be relocated to the new building prior to completion of the equipment room, then migrated when available, without any downtime. At the same time, the home was occupied and the owner wanted all house systems to be both upgraded and operational during the entire process," Gomes adds.
Enterprise-Class Networking Keeps System Running Smoothly
Work had to be carefully planned and executed while the client was traveling so there were no outages while the owner was in-residence, and so the phone, Internet, and power remained live for business purposes. It also meant that the equipment room, including network, RoseWater power distribution, home-run copper and fiber wiring, and cooling infrastructure were constructed in a temporary location while being engineered to be relocated to the final equipment room more than a year later without compromising ANSI/TIA permalink loss specifications.
BTA retrofitted a large-scale distributed AV system, installed an enterprise-class networking backbone with fail-over and isolated VLANs for business and personal use, and delivered an AV system run from a temporary MEC.
"The client understood the complexity necessary to make his home and workplace perfect," Gomes says. "His appreciation for the end product, weekly project meetings, flexibility, and ability to make course corrections as needed is what made this undertaking a positive and memorable experience."
If you enjoyed this article and want to receive more valuable industry content like this, click here to sign up for our digital newsletters!