Expanding its product selection beyond cables, the new Clarus Concerto is the company's new marquee AC power conditioner.
Clarus Cable's newly launched line of power conditioners also includes the Duet, Sextet and Octet, and these products will be introduced following the release of the Concerto.
According to the Florida-based company, its new series of power conditioners represent a new approach to power conditioning and protection.
Clarus explains that its approach to power conditioning omits the use of filtering that degrades the signals. The company's solution is to apply three separate and unique AC filter designs. One filter design is specific for use with analog source components. The next filter design is intended for use with digital source components. The third filter design is for use with high-current amplifiers.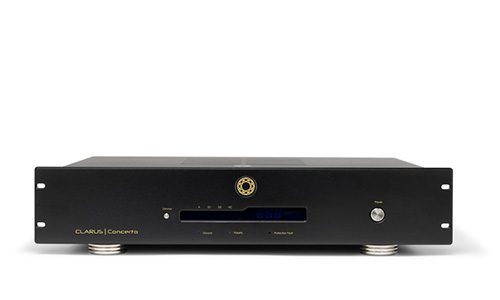 "Today I'm at CEDIA Expo 2019 in Denver and we're introducing our new Clarus Concerto Power conditioner. This unit is a unit we developed that has filtering systems that are designed specifically for the types of equipment that are being plugged into it. Analog equipment would plug into the analog outlets with filters that are designed for analog products. We also have two duplex filters for digital equipment and one for high-current [products]. All of these filtering systems are designed specifically for those types of equipment that are plugged into it," states Joe Perfito, president, Clarus Cable.
"On the high-current side the units are using capacitive coupling for their filtering systems. That's fine, but they only provide a small amount of filtering … probably upwards of 20 or 30dBs of high-level filtering. With our system, we put in a 30-amp inductor and that 30-amp inductor will give us a full 60dB of filtering for the high frequencies and a 15-amp unit. So a 30-amp unit will give us that kind of filtering.
"The unit also has under and over voltage protection. So if the voltage drops below 85 volts the unit will shut down unit the power voltage comes back up to 90 [volts]. At 135 volts the unit shuts down until the power comes back to 130 volts. So it protects you from over and under voltages also. It also have a light dimmer on the front and an alarm system if the voltage does drop below 85 volts. It is 15 amps, it does have a UL certification, and we are very proud to introduce it here at CEDIA," says Perfito.
Clarus Concerto Features Proprietary C-Core Technology
The rear panel layout of the Clarus Concerto utilizes hospital-grade isolated outlets that are labeled for use with specific source types:
High Current: The unit's two high-current outlets employ 30-amp C-Core filters to deliver full power without restricting the dynamics of power amplifiers, subwoofers and AV receivers.
Digital: The Concerto's four digital outlets enable integrators to connect devices such as DACs, CD players, streaming products and media servers. These outlets attenuate noise through the use of multi-level filtering.
Analog: Clarus says the Concerto's two analog outlets employ C-Core filters to help analog source components to perform to their highest levels without restricting system dynamics.
The company adds the Clarus Concerto and its C-Core technology provide high permeability and core loss is relatively unaffected by mechanical stress due to the technology's "near-zero magnetostriction." The phenomenon of magnetostriction is the result of ferromagnetic materials that causes a change in shape or dimensions during the process of magnetization.
Clarus says its C-Core technology's low magnetostriction reduces audible noise emission when the voltage and current are applied to the core within audible frequencies.