Crestron Horizontal Sheers Provide More Shade Options for Homeowners
Crestron's new horizontal shades help consumers blend natural light into their home spaces. The horizontal sheers are available in sizes up to 8 feet tall by 8 feet wide.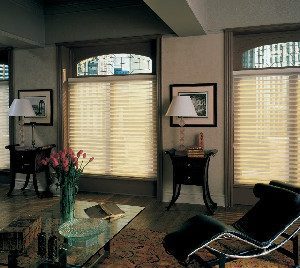 Crestron, a manufacturer of residential control and automation solutions, has added to its selection of automated shade products through its newly available horizontal shades.
The newly announced shades are now shipping, and Crestron says they provide flexible natural lighting control to any room or interior space.
According to Crestron, the new automated shade line of products utilize a construction technique that places "floating" fabric vanes between two layers of soft, knitted fabric to soften room occupants' view of the outside.
Crestron Horizontal Shades Complement Range of Home Interiors
Supporting dealers' ability to meet a variety of consumer requirements, the horizontal shades are available in sizes up to 8 feet wide by 8 feet tall. Crestron also provides a choice of 25 different colors and patterns, and room darkening (opaque) fabrics are also available in a choice of 11 colors.
---
Related: Crestron Outlines 2018 Residential Plans
---
Elaborating on the floating design of the horizontal shades, Crestron points out that the products incorporate 2.5-inch vanes that provide approximately 1.25 inches of view through, along with horizontal sheers that come with fascia with fabric inserts that match the vanes.
Like other Crestron shade products, the new horizontal shades employ the company's Digital QMT Shade Motor to provide integrators with a durable and reliable motorized shade that is compatible with all QMT 3 Series Architectural Shade motor hardware.

Controlling the Shades: Wired & Wireless Options
Control of the shades is available through a choice of Cresnet wired or infinNET EX wireless options, and 24-volt DC power (CSA-PWS40) is provided by local outlet-mounted power supplies or centralized intelligent 10-motor power supply (CSA-PWS10S-HUB-ENET).
Non-motorized options are also available via Crestron's manually operated beaded pull chain.
Crestron emphasizes the horizontal shades come with mounting hardware that enables mounting within window jams, window casing wall or ceiling surface.
Decorative curved fascia with matching fabric inserts hide the roller assembly and mounting brackets to help the shades unobtrusively blend into a variety of interiors.
Optional end caps and top/back covers further enhance the shades ability to integrate into just about any home setting.