The West Texas Home Builders Association (WTHBA) is a non-profit organization of builders and associates that work together to provide homes to veterans and first-responders in need.
All of the West Texas Hero Homes are built with donations from all over the country, allowing the WTHBA to present each recipient with a fully customized home, mortgage-free.
After serving in the military and returning home in 2009 due to a combat-related injury sustained in Afghanistan, Michael Vasquez, a U.S. Army veteran, had to undergo numerous surgeries. Unfazed, Vasquez remains active in the community and continues to volunteer, helping new veterans adjust after returning home from deployment.
His adversity and determined attitude caught the eye of WTHBA's Lubbock Homes for Heroes.
Gift of a New Home for Veteran
Prior to his surgery in 2013, Vasquez and his wife purchased a home expecting that he would eventually be able to walk again. After learning that he would be confined to a wheelchair, they looked into making modifications within their current home.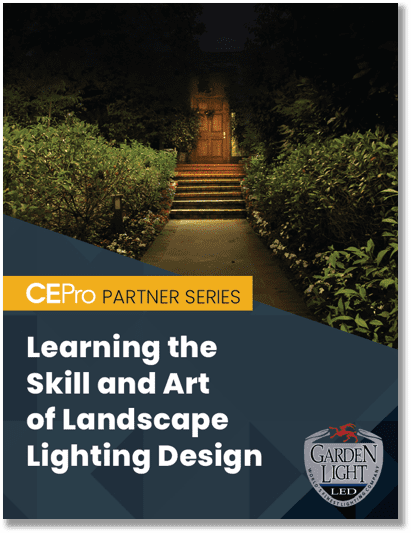 Experts recommend landscape lighting design as an entry point for integrators into the revenue opportunity of home lighting. Check out our new resource for tips and best practices. Download "
Learning the Skill and Art of Landscape Lighting Design
" today!.
Even with financial help, the project would have been extremely difficult and expensive to complete.
The Vasquez family decided put their home on the market with the intent to buy land and build a new house suited to his needs. During this time, Vasquez received an opportunity to speak with WTHBA.
Two weeks later, he and his family were invited to a luncheon where they were given the news that they would be receiving a new home.
Every build begins with the builders, homeowners, and architects. "For us, it was essential that we design a home centered around Mr. Vasquez's needs and his family," says Dan Wilson, president of Dan Wilson Homes, Inc.
To ensure the home was exactly how the family envisioned it, Lisa Fairbanks, the interior designer at Dan Wilson Homes, sat down with them to work on the floor plan.
Team Effort to Design, Install Smart Home
The home is a single story and spans about 3,500 square-foot. "After meeting with the family, it was clear that we needed to build a home that could meet the needs of Mr. Vasquez without imposing any visual differences," explains Wilson. "He wanted the space look and feel just like any other home."
To help take the home to the next level, Dustin McDowell, owner of BAM's Complete AV, and his team came together to develop a plan that would integrate voice control and an intuitive lighting solution.
"Making sure Mr. Vasquez was comfortable was my team's top priority," says McDowell, who recommended Crestron technology and reached out to Michelle Guss, the automation manufacturer's senior manager of business development, to see if Crestron would like to get involved in the project.
"When Dustin approached me about Mr. Vasquez's home, the Crestron Eagles Program immediately came to mind and I began to make some calls," says Guss, referring to the initiative started a little over a decade ago by Crestron founder George Feldstein.
"It was important for us to give to give [them] a place to leave that didn't feel like it was built because of a disability," McDowell says.
After working closely with McDowell, Crestron sales support services, and Pete Baca, director of OCONUS federal sales at Crestron and retired U.S. Marine, Crestron donated all of the necessary equipment as a part of the Crestron Eagles Program.
"Crestron takes social responsibility seriously and being able to contribute to projects like this allows us to utilize our technology to help better the lives of our courageous American heroes," explains Guss.
Home Tech Beyond Expectations
"Cooper [Downer] from Dan Wilson called and say, 'Hey, [BAM's] is going to call you, they want to help you with the technology on the house.' I'm thinking TVs, maybe surround sound," Vasquez recalls.
"He's like, 'No, we're going to retrofit your house with top-of-the-line technology and voice commands and smart-home systems you can control from your phone. And I'm like, 'What?'"
With a system featuring Crestron Home, DigitalMedia technology, and Amazon Alexa, Vasquez can effortlessly control the lights, music, temperature, and more by simply saying a command. All the TVs are 1080p or 4K capable, and can access the Crestron DM sources.
Within the bathrooms, there are Crestron occupancy sensors that automatically turn on when someone enters and turn off when they leave. A 20-inch TSW touchscreen in the kitchen and multiple Crestron handheld remotes provide the family convenient controls throughout the home.
Having the ability to control the entire home via voice commands and a smartphone, Vasquez no longer has to worry if he forgot to turn off the radio or the lights in the other room.
Helping to overcome serious back and brain injuries, the technology being used throughout the home saves him a lot of pain that comes from performing these tasks.
The collaboration between Crestron, the West Texas Home Builders Association, and BAM's Complete AV has made living at home easier to manage and make the continued transition to civilian life a little more seamless.