Allterco Robotics US and its flagship line of Shelly smart home products are coming to the U.S. with the announcement of a new partnership with Jorvo, a Salt Lake City-based installer of smart home products. Based in Sofia, Bulgaria, Allterco's new U.S.-based operations are headquartered in Las Vegas.
Integrator Jorvo plans to integrate the suite of Shelly smart relays, plugs, and sensors into pre- and post-sale homes for builders, developers, and home buyers. As a result of this new partnership, Jorvo will integrate Shelly products into pre-configured installation packages that offer homebuilders an end-to-end smart home system with Wi-Fi, smart speakers, video cameras, door locks, thermostats and more.
According to Allterco, the Shelly-based set up arms integrators with "all the tools needed for installation, saving significant time and money. By providing the automation and control on the back-end to ensure all products work as expected, Shelly innovations are helping to simplify the experience for the home owner and deliver value from day one."
Jorvo selected Shelly products as its offering due to it being cost effective, yet powerful, according to the company.
Allterco's Shelly solution has a product track record in Europe, UL certifications, custom firmware, and a multi-functional product line.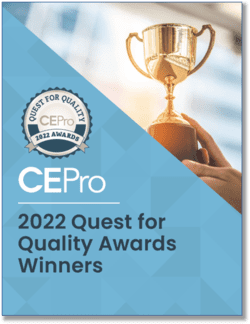 Every integrator has a handful of manufacturers and distributors they rely on as critical partners in the success of their business.
Check out the 2022 Quest for Quality Awards winners!
"With a shared mission to ensure a positive customer experience, Jorvo will be instrumental in our efforts to seamlessly power smart homes across the US," says Svetlin Todorov, CEO of Allterco Robotics US. "Jorvo's depth of experience and impressive roster of relationships with top builders combined with the versatility and power features of our products, make this partnership an exciting prospect for those who are eager for a unique smart home experience."
"We are thrilled to partner with Allterco Robotics to simplify the automation of smart homes – the biggest barrier to adoption today," says Aaron Wernli, Managing Partner, Jorvo. "Together, we will effectively help bridge this gap and provide an easy to use yet powerful system to showcase the value of smart home automation, one home at a time."