Proving that good, quality electric service is something that should not be taken for granted, Torus Power through one of its international dealers—CSN Teknik—found that all it takes is one electrical surge or spike to damage a piece of home theater equipment. 
According to Torus Power, this threat is very real in Russia, where most of the country is fed by a single electrical grid. Home to several industries, Moscow is particularly prone to electrical disturbances. Every time a big piece of machinery turns on, the power grid takes a significant hit. The resulting electrical surges can affect nearby residences, putting sensitive electronic gear at significant risk. When a home has been outfitted with quality AV equipment protection from power disturbances is just as important to the entertainment experience as the quality of the speakers, amplifiers, processors, AV sources, and video projector.
"When we started plans for a custom theater in a large luxury home in Moscow, we knew the quality of the power grid was questionable," says Christian Søgren Nielsen, creative director and founder of Danish AV integration firm CSN Teknik.
"It's better to be safe than sorry, especially when installing such high-end gear, so no ordinary surge protector would do for this client. We needed a heavy-duty power conditioner, like the [Torus Power] RM 16 Power Isolation Transformer from Torus Power."
Helping to ensure that every audio, video, and control component in this recently installed system would receive clean, protected power, CSN Teknik installed six RM 16 Power Conditioners into the newly built theater. Fully protected from electrical disturbances and lightning strikes are a Dolby Atmos system comprised of Wisdom Audio speakers, amplifiers, and controllers; Trinnov Audio processor, Barco dual-laser 4K HDR video projector, Kaleidescape media server and player, Blu-ray Disc players, Apple TV, and RTI home theater control system.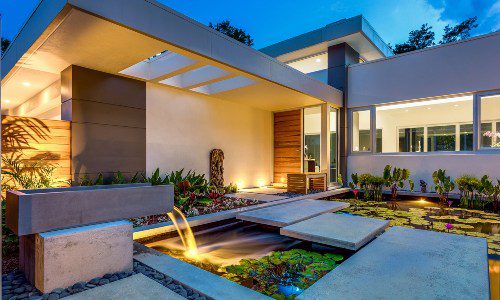 Landscape and architectural lighting create a magical and elegant ambiance for homeowners. The outdoor lighting industry has always been a phenomenal one and continues to grow in popularity. Now is the ideal time to learn more about this rapidly growing and highly profitable industry. Join our panel of esteemed lighting experts that will dive into why it's time for integrators to rethink their role in the outdoor lighting industry.
Register Now! 
"We didn't want to leave anything to chance, especially considering the instability of the power grid and the amount of construction that was happening in the building as we were installing the theater," notes Nielsen.
"There's no doubt in my mind that the Torus Power units saved us and our selective customers from the worst-case scenario."
In addition to protecting the system from dirty electricity, the Torus Power RM 16s also enable the system to achieve full dynamic range for both the audio and video components.
Further enhancing the system, CSN Teknik optimized the audio and video presentation by constructing and designing the home theater for proper acoustics. Working in tandem with the architect and other craftsmen, CSN Teknik employed a "room-within-a-room" construction technique to prevent sound from entering or leaving the space, which is important when neighboring units are located directly above, below, and adjacent to the seventh-floor residence.
Torus Power emphasizes this construction method decouples the envelope of the home theater from the residence's interior and exterior walls so that no extraneous noise would interfere with the home theater presentation.
If you enjoyed this article and want to receive more valuable industry content like this, click here to sign up for our digital newsletters!