Cloud-based software has received a lot of bad press over the last few years, often for outdated or misinformed reasons. While users often complain about unstable connections or worry about latency, these problems have been largely left in the industry's rear-view mirror. Glenn Nott, president of simPRO US, alongside Tim Orr, general manager, Blue Wave Communications, sought to set the record straight during the company's CEDIA Expo 2019 TechTalk.
Before worrying about the potential problems associated with cloud-based software, it's important to remember why it exists in the first place: Since many businesses have multiple workflows within the organization, it's easier to incorporate an end-to-end cloud-based software solution so that business owners don't have to juggle multiple pieces of software as they continue to expand. simPro also helps with customer service management so businesses can better identify a job opportunity.
simPRO also helps with customer service management so businesses can better identify a job opportunity.
"We have a lot of technicians out in the field and a lot of trucks. As we started to grow, we had to hire more people and get more processes in place and as a result of that, we had a lot of separate systems to tackle a particular problem," says Orr, an established user of the software. Once Blue Wave adopted simPRO, things started to run a lot smoother. "simPRO checked a lot of the boxes and we're very happy with how things have worked so far," he comments.
One of the main benefits of simPRO's software in particular is its ability to connect with technicians in the field.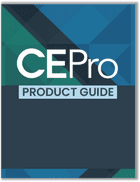 CE Pro's 2022 Product Guide showcases some of the latest and innovative solutions from manufacturers serving the custom electronics industry in a cross-section of categories.
Download the guide now!
"The really key element of what we do is having that software and that system in place for people in the office…but just as importantly, is to be connected to your techs in the field, and so we have a mobile application that's in real-time," comments Nott.
3 Common Myths Surrounding Cloud-Based Software
Myth #1: Cloud-based software will solve all of the integrator's problems without added effort.
While companies like simPRO would love to be able to promise integrators a seamless, hassle-free experience when switching to the software, that is not the truth.
"I think the biggest [myth] that I hear constantly and that it will be the panacea. It's not like that," says Nott.
The truth of the matter is that there is a lot of work involved in switching to a cloud-based software system, whether it's training new technicians or getting rid of bad habits integrators may have developed over time.
Orr estimates it took Blue Wave about three months to modify its workflows and change a few other systems. "There's a lot of time and effort that goes into it," he says, while stressing that this added effort becomes worth it in the long-run, allowing his business to run smoother.
Myth #2: Data security is a constant problem with cloud-based software.
As consumers, we are all well aware of the issues big corporations have had when it comes to data security. But in the case of simPRO and many other small-scale business solutions, the data being transferred isn't being sold or manipulated in any way.
"The data is 100% our customer's data, we don't own it, no other third-party owns it. It's our customer's data," Nott assures.
And the benefits of a secure, cloud-based software system for integrators is really important: it allows them to stay connected to their business no matter where they are, provided they have an Internet connection.
Myth #3: Latency is a constant issue.
Speaking of Internet connections, while latency is sometimes an issue with cloud-based software, it's not the software's fault, it's the fault of the user's Internet connection.
"Our software is as good or as fast as the internet speed is," says Nott. But, even when integrators have connection issues, simPRO logs any data inputs during the outage and pushes them to the live platform once the connection stabilizes.