There clearly has never been a more challenging year for AV and smart home distributors and manufacturers than 2021. The immediate factory shutdowns in 2020 from the pandemic were followed by an unexpected bounce back of high demand that caught everyone by surprise.
For the 12th annual CE Pro Quest for Quality Awards, in addition to gauging which suppliers offered superior customer service, tech support, warranty administration, shipping policies, marketing assistance and more, we posed an open-ended question to the industry about which distributors responded the best to the colossal supply chain crisis.
The responses were quite telling, ranging from the good, the bad and the ugly to the hilarious. Integrators could not wait to share their praises and frustrations in this year's survey, which garnered a record 15,444 individual write-in votes. Tellingly, the most common write-in response to our question asking who their supply chain hero in 2021 was, "No one."
In general, the suppliers that did receive praise did so because they had available inventory when no one else did, were able to suggest alternative products to substitute the gap of the missing items, or simply communicated with full transparency the status of backorders, even if that information was not necessarily good news.
The Quest for Quality Awards are unique to the industry because they recognize services, not products, and more importantly the people behind those services. Platinum, Gold and Silver winners are recognized in 15 manufacturer categories and seven distributor categories.
We realize that results can often be skewed toward suppliers that deal in multiple categories of equipment and therefore have more interaction with dealers, so once again we are recognizing "Category Kudos" winners who performed well in the voting.
Click here for this year's manufacturer winners, and here for this year's Category Kudos winners.
2022 Quest for Quality Winners: DISTRIBUTORS
---
Category: Best Supply Chain Response
---
PLATINUM: Snap One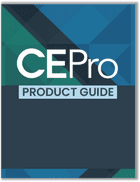 CE Pro's 2022 Product Guide showcases some of the latest and innovative solutions from manufacturers serving the custom electronics industry in a cross-section of categories.
Download the guide now!
"We drastically increased our inventory position on our brands so we would have the product available when our Partners needed it, achieving a 90%+ fulfi llment rate. Because of our buying power, we had the resources to stock up on necessary products. Snap One now has 34 store locations, so in many cases we can draw on a much larger inventory pool than distributors with just a few locations." — Wally Whinna – Senior VP Snap One Partner Stores
GOLD: DOW Technologies
"Our purchasing team has done a great job of grabbing inventory whenever it became available and identifying the best substitute products that were available. We've increased our warehouse capacity. We were consistently in contact with our vendors and focused our teams to ensure updated information is communicated to customers." — John Yodzis, President & CEO, DOW Technologies
SILVER: Future Ready Solutions
"Our expertise is focused on three major areas: Fiber-optic system design for the ultimate in video and network connectivity; superior copper connectivity to deliver full-bandwidth network performance; and delivering reliable, full potential HDMI signal performance from 1 foot to 1 kilometer. It's the combination of having the best brands and products in stock; providing straight-forward in-person trainings as well as live-via-zoom trainings; having a nationwide network of well-trained local representatives; and a no-nonsense, straight-to-the-point website that our customers love that really distinguishes us for our competitors." — Eric Bodley, President & CEO, Future Ready Solutions
---
Category: Best Customer Service
---
PLATINUM: DOW Technologies
"We've rolled out our Rapid Pickup process to get dealers back to their jobs quicker, we've improved our website to give them better visibility to inventory, we've increased our warehouse capacity to hold more inventory. And we have new programs that we're getting ready to roll out to keep the momentum going." — John Yodzis, President & CEO, DOW Technologies
GOLD: Snap One
"Our knowledgeable sales team is well-trained and experienced to service Partners every step of the way. We pride ourselves on providing the best experience possible while having fun at the same time." — Trevor Hansen VP, Category Management Snap One Partner Stores
SILVER: ADI
"Whether it's in-person in one of our branches, over the phone, online through our Digital Branch, by email or behind the scenes, our teams are focused on delivering the best possible service at every interaction." — Bob Appleby, Vice President & General Manager, ADI North America
---
Category: Best Technical Support
---
PLATINUM: Future Ready Solutions
"Our expertise is focused on three major areas: Fiber-optic system design for the ultimate in video and network connectivity; superior copper connectivity to deliver full-bandwidth network performance; and delivering reliable, full potential HDMI signal performance from 1 foot to 1 kilometer. It's the combination of having the best brands and products in stock; providing straight-forward in-person trainings as well as live-via-zoom trainings; having a nationwide network of well-trained local representatives; and a no-nonsense, straight-to-the-point website that our customers love that really distinguishes us for our competitors." — Eric Bodley, President & CEO, Future Ready Solutions
GOLD: DOW Technologies
"We're proud to have a strong support team as we focus on continual internal trainings with our vendors as well as having 'brand champions' assigned within our key categories. In addition, members of the team obtain certifi cation from our vendors." — John Yodzis, President & CEO, DOW Technologies
SILVER: Snap One
"The staff at all the Snap One Partner Stores prides themselves on being the fi rst point of contact when Partners need support. Our team continually goes through rigorous product and integration training, through manufacturers or our own internal Learning Management System." — Mike Munger VP, Operation Snap One Partner Store
---
Category: Best Shipping Policies
---
PLATINUM: Snap One
"Options like same-day courier service, next-day FedEx, and even a personal delivery service with our own fl eet of trucks in select markets — it's all about making business easy. We also provide 24-hour rooms in most locations. Our highly competitive Free Freight policy makes it easy to receive your product with no cost to you." — Trevor Hansen VP, Category Management Snap One Partner Stores
GOLD: Amazon Business
"Amazon has clearly invested heavily in making sure they have the most transparent and comprehensive shipping and delivery system in the world." — Respondent comment
SILVER: DOW Technologies
"Our Smart Services policy off ers free freight at a small monthly cost so there is no guesswork, no additional costs no matter how many times they order. Plus, it includes same-day courier to save integrators time and money." — John Yodzis, President & CEO, DOW Technologies
---
Category: Best Website
---
PLATINUM: Portal.io
"Of all the categories, this is the one that's most meaningful to us. As business software for dealers, our focus is 100% on our website. This means that all of our eff ort, from our entire team, is directed toward dealer experience on the web." — Kirk Chisholm, Founder & CEO, Portal
GOLD: Snap One
"We understand the importance of convenience with self-shopping and online ordering. That's why we are constantly updating our websites and providing our Partners with new online tools." — Josh Mackey, Senior Manager Marketing Snap One Partner Stores
SILVER: ADI
"We launched a series of upgrades to our Digital Branch, released a new mobile app and introduced many new features like buy online pick up in store, quote-to-order and artificial intelligence (AI)-based suggested selling. ADI's ecommerce revenue was up 47% in 2021." — Bob Appleby, Vice President & General Manager, ADI North America
---
Category: Best Training Programs
---
PLATINUM: ADI
"We regularly host trainings and counter days in our branches and have ramped up our webinar training. We were able to host more than 20 webinars in 2021 and trained dealers across a wide array of topics. Additionally, we launched our on-demand training platform, ADI Academy." — Bob Appleby, Vice President & General Manager, ADI North America
GOLD: Future Ready Solutions
"Our expertise is focused on three major areas: Fiber-optic system design for the ultimate in video and network connectivity; superior copper connectivity to deliver full-bandwidth network performance; and delivering reliable, full potential HDMI signal performance from 1 foot to 1 kilometer. It's the combination of having the best brands and products in stock; providing straight-forward in-person trainings as well as live-via-zoom trainings; having a nationwide network of well-trained local representatives; and a no-nonsense, straight-to-the-point website that our customers love that really distinguishes us for our competitors." — Eric Bodley, President & CEO, Future Ready Solutions
SILVER: Snap One
"Snap One will host over 350 in-person training events in 2022 across our national store footprint. [Partner] input is helping us to create more valuable training on the brands and categories our Partners asked for." — William Zidek, VP Sales, Snap One Partner Store
---
Category: Best Dealer Programs & Incentives
---
PLATINUM: Snap One
"With the new Snap One Partner Rewards Program you now earn points on everything you purchase through the local stores. This helps Partners achieve larger discounts and rebates." — William Zidek, VP Sales, Snap One Partner Store
GOLD: PowerHouse Alliance
"The PowerHouse Alliance monthly product incentives and industry-leading in-person training across all 55+ locations throughout the United States set us apart. PowerHouse distributor members also incentivize dealers by offering an industry-leading 10% quarterly rebate on our A2V line of high-quality products and accessories." — Dennis Holzer, Executive Director, PowerHouse Alliance
SILVER: ADI
"We work very closely with our suppliers to ensure we're offering the right products at the most competitive prices. And using customer buying data, we curate exclusive promotions and personalized incentives." — Bob Appleby, Vice President & General Manager, ADI North America
Click here for all of the 2022 Quest for Quality winners