InstallerNet, a nationwide provider of installation services for consumer technology, recently announced a new partnership with Capitol Sales, a consumer electronics distributor, to provide its partners with a new distribution channel.
The partnership will offer Capitol Premier Dealers the opportunity to receive installation leads from InstallerNet enterprise client base. The companies say Premier Dealers will benefit from a new stream of customer demand for their services while having the opportunity to develop long-term value relationships to grow their businesses.
Similarly, InstallerNet Network Members will be able to take advantage of special pricing, giving them access to top brands with a competitive buying structure, a dedicated account manager, product training, an online ordering platform, and free shipping.
"As we develop new installation programs for our manufacture partners, often there is a desire to explore product distribution to our high-quality network members" says Tony Frangiosa, CEO, InstallerNet. "Since InstallerNet already trains its members on the product, allowing them to make a purchase for resale is a strong value-add to our programs."
InstallerNet to Develop 'Nationwide Installation Program'
InstallerNet will also develop a Nationwide Installation Program to support a core set of consumer electronic products offered by Capitol. The idea is to provide a turn-key solution to their enterprise-level clients.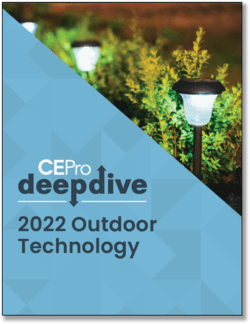 The 2023 CE Pro Outdoor Technology Deep Dive reveals unique set of impediments, including explaining pricing and interacting with outdoor-centric trades.
Get your copy now to take a "deep dive" into the trends and challenges of outdoor technology.
Download the report now!
Installation categories include TVs, thermostats, surveillance cameras systems, smart home devices and other consumer electronics products sold by Capitol. All installations provided by InstallerNet will be backed by a lifetime workmanship warranty.
"We consider it our responsibility to our customers to always be open to partnerships that ultimately help them grow their business," says Curt Hayes, president and CFO, Capitol.
"We anticipate that through lead generation and opportunities for developing long-term relationships with clients, our customers will enjoy a noticeable jump in their profitability thanks to our agreement with InstallerNet."