Recently, CE Pro virtually sat down with Zee Hakimoglu, president and CEO of ClearOne, to discuss the company's future as it targets the residential AV space, the impact of coronavirus on the company, and much more.
With the impact of the coronavirus reshaping the way people work, how is a company like ClearOne helping people to make the shift?
ClearOne perceived early on in the pandemic that a work-from-home (WFH) trend was going to become greatly accelerated and that in all likelihood, distributed hybrid work and learn environments were going to become the new normal. Having said that, the company also understood that not everyone would have access to a systems integrator to help bring an enterprise-quality work experience to their home office — where it was badly needed.
That's why we created Aura, a curated line of good, better and best audio, video and (combined) audio-video solutions that take the guesswork out of improving a professional's work from home environment. We see Aura doing for remote working professionals what home theaters did for entertainment 15 years ago.
---
Going forward, will ClearOne be developing products designed for residential applications?
---
We absolutely plan to broaden our solutions portfolio for residential applications. These new products will derive from our exceptionally innovative new commercial solutions as they are introduced. Great AV technology is essential for conferencing and collaboration whether at the enterprise level or in a home office, scaled and optimized for each environment.
With the introduction of the ClearOne Aura product line, we plan to build out a lineup of solutions for residential spaces. Most recently, we introduced the ClearOne UNITE 10 webcam and the UNITE 50 4K PTZ (pan/tilt/zoom) auto-framing camera. More video and audio products will follow.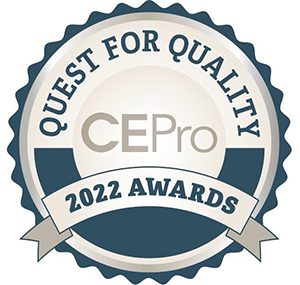 CE Pro urges integrators to recognize their suppliers that go above and beyond to deliver premium support and service. Cast your vote today to recognize the services (not the products) from your favorite manufacturers and distributors.
Cast your vote today!
---
Will ClearOne expand its dealer base to work with integrators whose expertise is in the residential market?
---
We believe several of our home office solutions are ideally suited for many of the CEDIA dealers who service the residential market. We will continue to add home office solutions to our Aura residential portfolio so residential dealers can capitalize on this global emerging market, where solutions will get even more powerful and sophisticated.
Many of our solutions are targeted for high-performance professionals who will want to duplicate their professional, office AV experience at home, while preserving aesthetics, performance and ease of use.
---
What's the biggest challenge for a company that has traditionally served corporate enterprise types as it enters residential?
---
The fundamental value propositions to serve residential users versus commercial enterprise users are really no different — performance, price and support are common to both. This mantra is core to ClearOne's corporate DNA, no matter the user.
The challenges relate to marketing our value proposition to an audience who may not be familiar with ClearOne or the direct benefit of a well-equipped professional home office. However, this challenge is always present for many prosumer technologies which migrate from the enterprise to the home environment. By introducing a curated and field-proven lineup of residential solutions that are easy to use and scaled for the home office, the marketing is much easier because the solutions are true to our mission.
---
Can you elaborate on products that could be adapted for home use?
---
The entire ClearOne Aura product line has been adapted to offer remote workers "good, better and best" options. The Aura Xceed BMA is a very powerful Beamforming Microphone Ceiling Array that includes all the advanced AEC (acoustic echo cancellation), noise cancellation and other processing to provide impeccable room coverage while giving the freedom to move [about]. It includes a ceiling surface mount assembly to easily install. Aesthetics are very important, and the Aura line is very discreet mounted on the ceiling.