CE Pro 2020 Quest for Quality Awards Open for Voting
CE Pro 2020 Quest for Quality Awards recognize best services from manufacturers and distributors in customer service, shipping, warranty, tech support and more.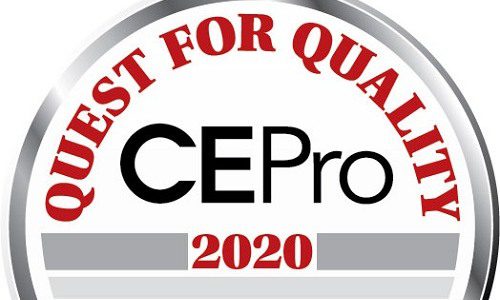 Ten years ago, CE Pro had a simple idea: How can the industry recognize the people and services behind the technology? Thus, the CE Pro Quest for Quality Awards was born. 2020 marks the tenth year in which CE Pro has been recognizing the best services, not products, in the custom electronics industry.
It is an award that has become synonymous with the top companies – both large and small – that cater to this market. It is an achievement that manufacturers and distributors proudly shout from the mountaintops to their integrators/clients and internal staff … every tech support, sales support, website creator, customer service rep, warehouse worker, etc. at their company helped earn the award.
Voting is officially open for the 2020 Quest for Quality Awards, so please take a few minutes of your time to recognize that tech support person, customer service rep or salesperson from your best suppliers–both manufacturers and distributors. Recognition for a job well done is something everyone deserves to receive. Voting ends February 29 (You get one extra day this year to vote!)
Votes are casts by the thousands (last year we had 7,560 votes cast in an unprompted, open-ended questionnaires sent to subscribers and posted online. Votes are deduped based on ISP addresses to deter potential ballot-box stuffing. (Hey, Iowa… if you need some help on how to conduct voting, ask us!)
CE Pro will not be announcing winners in a special email newsletter and press release on March 31, 2020. The winners will also be posted on www.cepro.com starting on that date.
In addition to the online coverage, the April print issue of CE Pro will include a feature article on the winners with verbatim commentary provided by readers about the most successful programs, covering 16 manufacturer categories and 8 distributor categories. We are recognizing three winners in each category: Platinum, Gold and Silver.
We realize that the Q4Q results can often be skewed toward vendors serving multiple product categories… the more touchpoints a dealer has with a vendor, the more top-of-mind that vendor is for receiving a Q4Q vote. So, again this year we have added a "Category Kudos" award to a niche manufacturer with products only in a single product category that scored very well in the survey.
For winning companies, CE Pro is offering a special promotional opportunity in the April issue and online. Please contact your sales representative for more information.