Klipsch is bringing more power – and performance – to its powered loudspeaker options, with the company announcing the addition of larger, more powerful and dynamic The Nines and The Sevens powered speakers to its lineup of Heritage Wireless series of speakers. These new additions build upon The Fives, which were introduced in 2020.
Designed with materials such as real wood veneer and tactile switches and knobs, Klipsch Heritage Wireless speakers blend the acoustics and classic design legacy of founder Paul W. Klipsch with the latest technologies available, the company notes.
The venerable audio company explains that integrators can use the latest speakers to bring high-quality sound to a variety of room environments. Klipsch The Nines (MSRP $1,499) and The Sevens (MSRP $1,299) powered speakers provide room-filling sound with minimum space required, Klipsch says, thanks to a built-in amplifier that is custom-engineered to maximize output and sound quality.
Besides installation flexibility, Klipsch says the new speakers are very versatile, easy to set up and use, and connect to virtually everything — including a TV via HDMI-ARC.
Klipsch Packs Plenty into The Sevens & The Nines
The Nines and The Sevens include an integrated phono preamp, Bluetooth wireless technology, digital optical, analog RCA, USB inputs and a subwoofer output. The powered monitors feature 24-bit/192kHz decoding for impeccable reproduction of high-resolution audio tracks, and they are bi-amplified for improved clarity and output, the company says.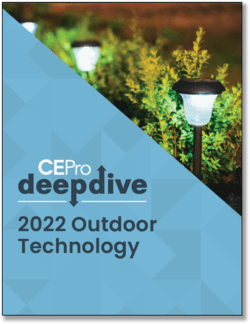 The 2023 CE Pro Outdoor Technology Deep Dive reveals unique set of impediments, including explaining pricing and interacting with outdoor-centric trades.
Get your copy now to take a "deep dive" into the trends and challenges of outdoor technology.
Download the report now!
Klipsch Heritage Wireless powered speakers incorporate proprietary Klipsch Reference acoustic horn-loaded technology and tuning to deliver loud and precise audio with enhanced bass and low distortion. Built-in dynamic bass equalization matches the ear's ability to hear lower frequencies, according to the company, delivering impactful bass at any volume.
Internally, the Nines and The Sevens feature 1-inch titanium tweeters on Tractrix horns. Larger in size and output, The Nines feature 240 watts total system power and an all-new 8-inch long-throw high excursion composite cone woofer.
Mid-sized The Sevens, with 200 watts total system power, use a 6.5-inch long-throw woofer for room filling sound and enhanced bass. The speakers are available in walnut and black veneer finishes.
The speakers put power in the hands of listeners as well, via compatibility with the Klipsch Connect App. Users can enlist the app to customize EQ and subwoofer volume settings, dynamic bass, night listening mode, over-the-air firmware upgrades, a digital quick-start guide, and much more, according to the company.
It's been just about a year since the company announced its ProMedia Heritage 2.1 Multimedia Speaker System for the Heritage Wireless Series.