Hailing from Montreal, Simaudio has built a loyal following within the audiophile community for producing a range of high performing products. The latest product to affirm its reputation within audiophile circles is the Moon by Simaudio 340i integrated amplifier.
In terms of Simaudio products the 340i resides in the company's line as more of an entry point solution, but the integrated amp does not skimp on features or performance.
Trying the integrated amplifier in my home, I employed it like I would think that integrators may set it up in their clients' homes. Some of the ways I envision the integrated amp serving dealers includes as the basis for a high-performance secondary system solution in locations such as home offices, dens, or in my case a dining room.
As I just noted, I set the 340i integrated amp up in my dining room with a couple of sources and I tried two different pairs of loudspeakers with the Simaudio product.
Simaudio 340i Features at a Glance
Rated power into 8 ohms is 100 watts and it delivers 200 watts into 4 ohms
Operates in Class A for its first 5 watts of output
The 340i X includes a total of six line-level inputs
Simaudio incorporates a single pair of balanced (XLR) inputs
Available with digital inputs such as USB, optical, and coaxial
Custom install options include RS-232, IR ports and 12-volt triggers
MSRPs start at $5,000
Moon by Simaudio 340i Setup
When it comes to Simaudio amplifiers the 340i is on the smallish side, which in part allows it to easily blend into a range of interior environments. Weighing in at 28 pounds, the integrated amp's dimensions are 16.9 inches wide by 3.5 inches tall and 14.8 inches deep.
Aesthetically the integrated amp is offered in a choice of three finishes, and the product's rear panel provides a host of connection options. These options include six RCA inputs, a pair of balanced (XLR) inputs, and provisions for digital audio that include optical, coax, and USB.
Supporting integrators, the integrated amp's rear panel also includes connections for RS-232, IR ports,` and 12-volt triggers.
Internally, Simaudio notes the 340i X utilizes a large, oversized power supply that features a customized toroidal transformer design, and matched proprietary bipolar output transistors. Simaudio specifies the integrated amp to deliver 100 watts into 8 ohms, 200 watts into 4 ohms, and the first five watts of its operation are in pure Class A.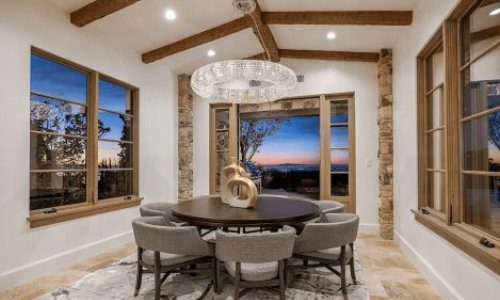 As a custom integrator, lighting is in demand. Effective communication, education and showcasing the value proposition of LED light fixtures in conjunction with integrative control systems are the keys to overcoming challenges and closing sales in this specialized market. Join us as we discuss the future of digital lighting and control with David Warfel from Light Can Help You and Patrick Laidlaw and Mark Moody from AiSPIRE.
Register Now! 
I didn't do anything fancy in my setup. I connected an Apple MacBook Air to the Simaudio 340i via USB, and I used a pair of RCA cables with an Oppo BDT-101CI Blu-ray disc player to connect to the integrated amp's CD inputs.
Wrapping up the setup, I initially paired the amp with a set of inexpensive OSD Audio MB5 loudspeakers set on 24-inch stands using speaker cables terminated with banana plugs, and I plugged the 340i into a Tripp Lite isolation transformer. Later I would swap out the OSD Audio speakers for a moderately more expensive pair of LSA 1 bookshelf speakers.
Performance and Final Thoughts
I've been lucky enough to review several of Simaudio's products and each time I am sad to send the products back to the company because they have always met my fun and performance expectations. Like those products, the 340i delivers fun and performance in spades.
Starting my listening off with the Alice in Chains Unplugged CD, along with some lossless content from my Apple Music account, I was immediately impressed with the amp. Even though my dining room is an acoustic nightmare, I was still knocked out by the clarity of the Simaudio 340i 's sound, as well as its image precision and the size of the soundstage that was presented to me through the OSD speakers.
Listening to the system with the MB5 speakers I was hearing high levels of top-end extension that was smooth and a full bottom end. I was hearing some room interaction around 80Hz with the speakers—my dining room is 12×12 and the speakers were placed towards the corners of the room near the walls.
Connecting the LSA 1 bookshelf speakers, which despite being a little bigger speaker than the MB5s, were a bit leaner sounding in the low end, which helped to minimize the modal interaction within the room.
With the LSA-1s I would estimate I was hearing good tight low-end extension down to about 50Hz with a slightly more detailed top end and midrange. One other difference between the speakers was the LSA-1s soundstage was not as wide as the OSD MB5s.
Anyway, back to the Simaudio 340i. Popping in the Dave Matthews Crash CD I thought the integration of the band in the image was very precise and there were high levels of midrange detail that allowed me to hear the timbre of specific instruments. I also revisited the Alice in Chains Unplugged CD and thought the Simaudio amp represented the live elements of this album really well.
Through the precise image of the LSA speakers and 340i integrated amplifier, I found the level of detail and small subtle sounds that you would hear in a live environment was presented with a vividness that can be difficult to capture for some components.
Towards the end of the song Would there are "stabs" and the amp had the resolution and transient capabilities to reproduce the reverb of the hall and punch of those "stabs" without smearing the sound or losing the definition of the notes.
Listening to a 1990s playlist from Apple Music the song My Own Prison from Creed had started to play and up until this listening session I had never noticed the backing vocals on that track, as well as the clarity of Mark Tremonti's "clean tone" guitar parts.
Regardless of the content, whether it was streaming music at CD quality 16-bit/44kHz, physical CDs, or high-resolution content from Apple Music I thought the amplifier produced images that were extremely detailed with space around instruments, including drums, bass, and guitar, and it delivered bottom end with authority.
Getting back to the speakers for a moment, the amp easily drove the 4-ohm, 90dB sensitive OSD MB5 speakers and the 6-ohm, 88dB LSA speakers. I rode the volume knob consistently around 9 or 10 o'clock to produce plenty of volume in my 12 x 12 dining room.
Maybe the only thing that may scare off prospective users is the amp's pricing. Starting at $5,000, some homeowners may not be up for that type of purchase.
My bet is that once someone compares the 340i to other integrated amplifiers, any hesitation on their part will disappear. The Moon by Simaudio integrated amp easily delivers sound quality that is worthy of a more expensive benchmark component. Its ease of use and room-friendly size allows it to blend into just about any room without sacrificing style and functionality, and through its performance, it just may end up being someone's "go-to audio solution" in lieu of their more prodigious AV systems.
The Moon by Simaudio 340i integrated amplifier is another top-notch component from a company that has deservedly earned its reputation as a top manufacturer in the home audio industry.
Overview
Pros
Transparent, smooth, full balanced sound with plenty of power to drive any speaker
Plenty of inputs to support a number of source devices
The 340i X features an industrial design that allows it to blend into most home environments
Cons
To people not familiar with the world of consumer AV products, the Moon by Simaudio 340i integrated amp will seem expensive
If you enjoyed this article and want to receive more valuable industry content like this, click here to sign up for our digital newsletters!