Last June when Samsung entered the outdoor market with its Samsung Terrace outdoor TVs and soundbar, little did the company know that the product would take the market by storm, but that is exactly what happened.
In just one year, Samsung gained a 45% marketshare of usage among the CE Pro 100. The full CE Pro 100 Brand Analysis Study will be out in June. According to Jim Mayo, Samsung's senior director of custom install sales and strategy, the company was thrilled the bring its recognizable brand name to the outdoor TV category.
"There has been some historically great product in the outdoor space," he notes. "I think we are going to make them a little sharper, create some buzz around the category, and try to expand the size of the market by getting more people to put these products in their backyards."
The company entered the outdoor market with the Samsung Terrace in 2020 with both commercial versions for digital signage and consumer versions for entertainment. Both versions come in 55-, 65- and 75-inch models at MSRPs of $3,500, $5,000 and $6,500 respectively.
"The margins are the same, the products are the same, but for the consumer version, we made it a 2,000-nit product, which is much brighter than anything else you will see on the market. In some cases we are three times the brightness of other products," says Mayo. The commercial version has a 1,500-nit brightness level and carries a 3-year warranty. Both displays are also loaded with smart features, can connect wirelessly, and are loaded with apps.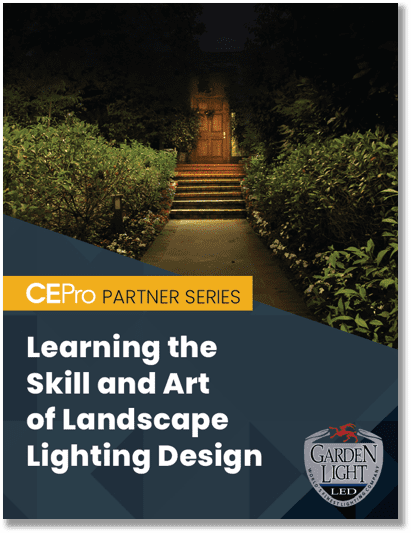 Experts recommend landscape lighting design as an entry point for integrators into the revenue opportunity of home lighting. Check out our new resource for tips and best practices. Download "
Learning the Skill and Art of Landscape Lighting Design
" today!.
As a companion to Samsung Terrace TV is The Terrace soundbar, which retails for $1,200. The soundbar can connect directly to the TV itself, or it can be mounted to the wall. It is a 3-channel speaker producing 2,100 watts of power, and it has Dolby 5.1 surround sound and Bluetooth connectivity.
"That has been selling really well," comments Mayo, noting that the attachment rates from integrators for the Terrace soundbar with the display are much higher than similar attachment rates for indoor TVs.
For 2021, Samsung has added a 75-inch full-sun version of The Terrace display. It has the same chassis as the previous version, but is at 1,500 nits of brightness and is IP-55 rated.
"The reception we have received from the buying groups and from our Platinum dealers has been overwhelming. They love the product," notes Mayo, adding, "The outdoor market is here to stay."