Addressing three important vertical markets, Samsung has introduced a new range of commercial displays.
Samsung states that as America and the world phases into a "new normal" its latest products support commercial safety, collaboration and communications markets.
"At Samsung, we pride ourselves on always listening to our customers to provide display solutions that fit their present day needs," states Harry Patz, senior vice president and general manager, display division, Samsung Electronics.
"Our displays power innovative solutions within a broad range of industries, including SMBs, hospitality and quick-serve restaurants, to address specific customer pain points. We are excited to work with customers to find the right solutions to enable them to get back to business and implement ongoing efficient for them to succeed."
New Commercial Displays Underscore New Normal
Samsung points out that as businesses go back to work one of the major challenges they face is creating a safe working environment.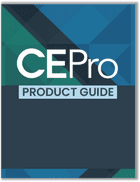 CE Pro's 2022 Product Guide showcases some of the latest and innovative solutions from manufacturers serving the custom electronics industry in a cross-section of categories.
Download the guide now!
Partnering with Palmer Digital Group, Samsung is launching an FDA Certified Temperature Screening Kiosk.
Palmer Digital Group is a division of the Industrial Enclosure Corporation, and together with Samsung's commercial displays, Charles Lewis, vice president of business and sales at Palmer Digital Group, says the FDA Certified Kiosk provides users with easy-to-read directions.
"Palmer Digital Group's temperature testing kiosks have become a line of defense for employees and customers," asserts Lewis.
"Our kiosks are paired with Samsung 32-inch displays so each user is given clear instructions and information."
Additionally, Samsung is also working with Thermal Mirror Technology to perform real-time temperature inspections, and to provide triggered alerts. The cloud-based Thermal Mirror solutions utilize an AI-based platform to provide an array of reporting options.
Displays for Collaboration, and Information and Communications
Augmenting its selection of collaboration and productivity products, Samsung's newest meeting products can be deployed in offices and remote locations.
These new collaboration displays come equipped with ultra-wide, curved panels and a trio of Thunderbolt ports. Some of the company's other collaboration products address hybrid work environments.
Backboning the user friendliness of these hybrid-friendly displays, is Samsung's partnership with Cisco. The result of this partnership offers integrators Samsung's Webex on Flip series of products that enable the ability to work as a team from various locations.
"Work styles are changing and workplaces are transforming," notes Sandeep Mehra, vice president and general manager of Webex Rooms.
"The modern workplace is all about collaboration hubs and businesses looking to attract the next generation of employees by adapting and implementing the very kinds of technology Samsung and Cisco partnered to create."
The Webex on Flip commercial display incorporates a range of editing tools, and options to support the sharing of source content from multiple connected devices via video conferences that don't compromise video quality.
Webex on Flip is available in a choice of either a 55- or 65-inch screen size.
Addressing the digital signage market, the new Samsung Pro TV enables businesses to communicate with their customers whenever communications are necessary.
Samsung offers a choice of Pro TV sizes ranging from 43 inches to 75 inches, and these commercial displays are capable of operating 16 hours per day, seven days a week. Samsung emphasizes that users can update the displays using its Samsung Business TV app that includes 100 customizable templates that upload from their smart devices.
"Providing businesses with new, easy ways to use digital signage is more important than ever," stresses Mark Quiroz, vice president, marketing, display division, Samsung.
"Our new Pro TV, designed for verticals, including SMBs, healthcare and education, combines a stunning 4K visual experience with a simple do-it-yourself app that allows users to communicate like a marketing pro."
Samsung adds that later this year it plans on introducing its Pro TV Terrace Edition. This display will be engineered to withstand outdoor weather environments, while maintaining high levels of brightness and image quality.
The Pro TV Terrace Edition supports businesses such as hotels, restaurants and live venues.