Fashion trends may come and go, but there's something to be said for the elegance of classic designs that have stood the test of time. In the automotive world Dodge offers products like the Charger, while Ford offers the Mustang, and both cars feature classically inspired designs.
The home audio market has its version of the Charger and Mustang through the availability of retro speaker designs from top manufacturers that includes Klipsch, JBL, PSB, KLH and Burwell & Sons. These companies' retro speaker products like the popular cars from Dodge and Ford feature the latest technologies to support a range of usages that include traditional stereo and modern immersive audio applications.
And while it may be true that some manufacturers in some industries have never abandoned their signature designs, the retro movement in the consumer market continues to gain momentum as more companies draw from the past to launch new products. Some of the that have never stopped making their classic products companies include McIntosh Laboratories in the home AV market, as well as musical instrument companies such as Gibson and Fender. Overall, throughout the entire consumer product landscape for the past 20-plus years retro designs have over steadily increased in popularity through successful product launches such as the Volkswagon Beetle, which arguably started the retro-design craze, to appliances from brands such as Kitchen Aid.
Keeping the focus on home electronics, beyond McIntosh's classic front glass and meters, an argument could be made that Klipsch is the other major home audio company that has never drastically deviated from its core industrial designs.
Joining McIntosh and Klipsch in today's market, a growing numbers of audio manufacturers are offering retro-speaker designs to meet a growing demand for solutions that harken back to the golden days of home audio.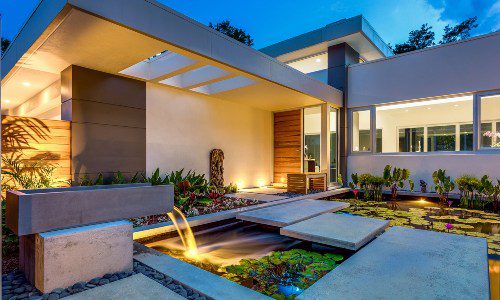 Landscape and architectural lighting create a magical and elegant ambiance for homeowners. The outdoor lighting industry has always been a phenomenal one and continues to grow in popularity. Now is the ideal time to learn more about this rapidly growing and highly profitable industry. Join our panel of esteemed lighting experts that will dive into why it's time for integrators to rethink their role in the outdoor lighting industry.
Register Now! 
Retro Speaker Designs Merge Classic Concepts with Modern Technologies
Getting back to the Gibson and Fender reference from earlier, both these companies have had some trouble moving their product lines forward without forgetting the past. Part of the problem for these companies has been consumer reaction. There's a faction of consumers that react negatively when these companies launch new products. Conversely, another segment of consumers criticizes these brands for living in the past. For that reason, these companies respectively have had to learn to offer both classically inspired products like 1960s Les Paul Standards and American Vintage 1963 Telecasters, alongside more contemporary products.
Thankfully, in the consumer electronics industry manufacturers such Klipsch have never had the issues Gibson and Fender have experienced with consumer push back. This has allowed Klipsch to embrace its past and move forward to adopt new technologies and trends.
Tony Martin, director, industrial design, Klipsch Group, Inc., notes the company's Heritage line of products have been available for decades, but at the same time the company monitors the ever-changing state of the home audio market.
"The Klipsch Heritage line has been in production since the first models in 1946, and while there have been minor industrial design revisions throughout the years, the products remain largely the same," says Martin.
"As a company, when we started to evaluate more technology in audio products like the use of Bluetooth or HDMI inputs, along with other classic inputs like line-in or addition of an integrated phono preamp, we wanted to ensure that you [users] weren't overwhelmed by the new tech. One way to do that was to keep physical attributes of the speaker like how we have done for many years. Using this combination of retro-inspired design along with emerging and new tech was a way for the consumer to remain comfortable, while gaining the advantage of the new features."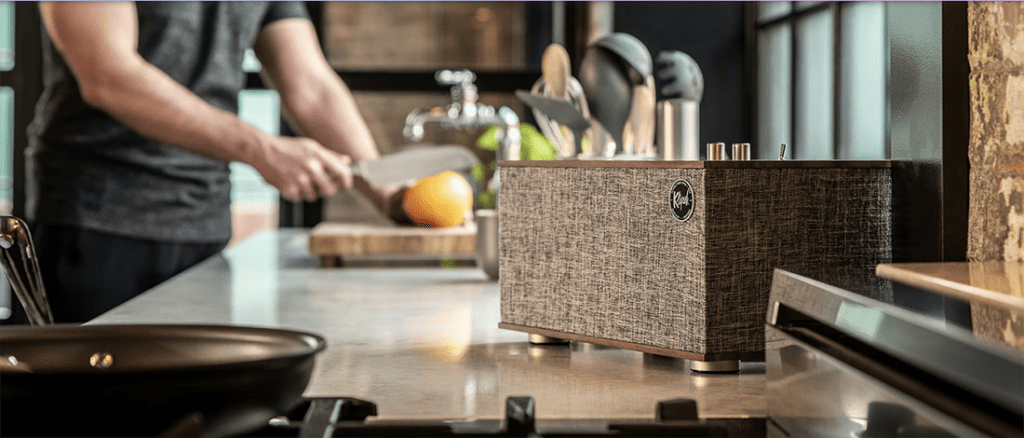 Taking this approach in the design of Klipsch products, Martin comments the public has embraced not only the classic designs of the Heritage products, but consumers have also embraced its retro-inspired Heritage Wireless series.
Martin states that regardless of the product line, including the classically influenced Heritage products or the retro speaker Heritage Wireless products that feature technologies such as Bluetooth and Google Assistant, Klipsch's goal is to remain true to its founder's original mission.
"In continuous pursuit of Paul W. Klipsch's high standards of audio reproduction, we deliver upon his design philosophy with the newest generation of Heritage products," he emphasizes.
"The latest models exhibit new state-of-the-art horn technology, not available in any other products, and improve upon the tenets of high efficiency and low distortion with unprecedented refinement. They deliver wide dynamic range in the tradition of fine Klipsch loudspeakers with true-to-life reproduction of music and movie content. They also showcase the legendary craftsmanship made by hand in the U.S.A."
New Brands Offer some Old Time Rock-n-Roll
Like a new band such as Greta Van Fleet or Dirty Honey hitting the rock music scene, Burwell & Sons is a relative newcomer to the home audio market when compared to a brand such as Klipsch. Like those new, up-and-coming rock bands, Burwell & Sons is bringing a classic approach to the home audio market.
Burwell & Sons designs and manufactures horn-based, retro speaker products that utilize classic industrial designs that draw inspiration from the classic speakers from the 1950s and 1960s. Gordon Burwell states that one of the reasons why horn technologies have remained relevant over the decades is that they perform well regardless of the rest of the equipment in an audio system.
"Aside from the incredible listening experience, I'd say one of the more attractive features of our horn speakers is the finesse they operate with while using most anything you choose to power them with," comments Burwell.
"We build attenuators into each speaker to moderate the mid horn and tweeter so you can adjust the tone to your liking, and the subwoofer package we offer affords the listener full control over the bottom end. This has proven to be a great way to mold the sound to your taste when using many of the boutique tube manufacturers that don't incorporate bass and treble control such as our coveted Cary [Audio] monoblocks and Audio Research [amplifiers]."
Unlike some in the audiophile hobby, Burwell says that homeowners shouldn't be limited to using only tube-based products with their horn-loaded speakers. He goes onto say that one of Burwell & Son's integrators prioritizes acoustical design, along with the use of his company's products, solid-state amplifiers with built-in DSPs (digital signal processors), and subwoofers.
"He gets fantastic results with or without our subwoofers," admits Burwell.
"Personally, I still prefer the subs."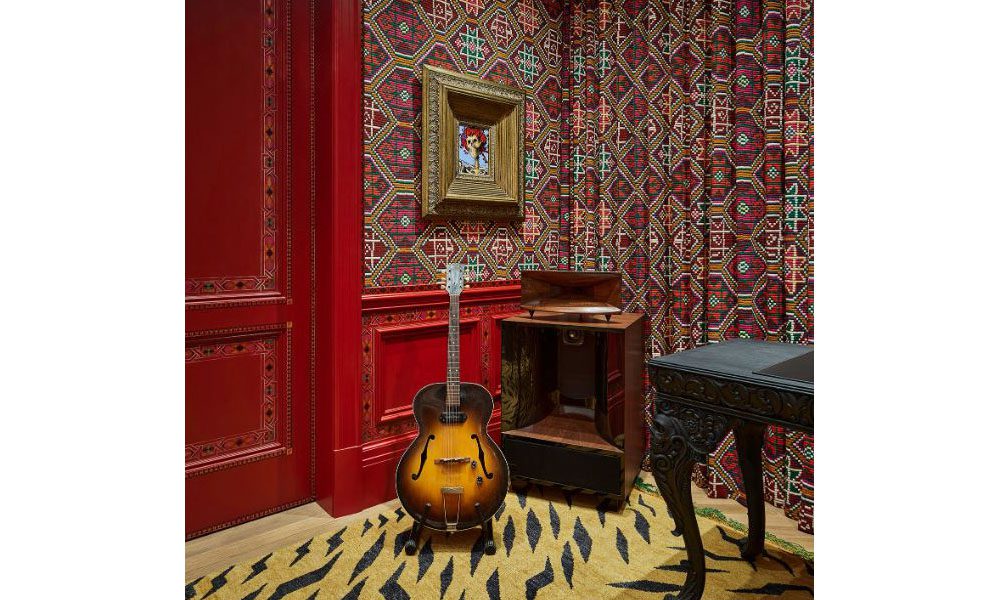 Burwell emphasizes that horn-based, retro speaker products shouldn't be relegated to classic stereo applications either. He says that in case of his company's products specifically, they have some basis in commercial theater audio environments.
"We've shown that, when done right, horn speakers can excel in near field listening for traditional two-channel stereo in modest- to larger-sized rooms," stresses Burwell.
"Remember also that the drivers we use in our Homage Series are vintage Altec Lansing Voice Of The Theater so they'll be right at home as they form the backbone of any multichannel audio or video setup quite nicely."
Moreover, Burwell also emphasizes that while horn-based, retro speaker products may not complement every home décor, there are many interior designs in which classic-looking speakers unobtrusively blend into modern home spaces.
"If our style doesn't suit a particular decor there may be another manufacturer who does. With a bias for our own style, we love seeing the growing number of horn manufacturers and their designs because the more people exposed to horns the more the market will grow," he enthuses.
"While our signature look features wood horns and cabinets, we show a number of different finish materials such as brass, copper, polished stainless steel, auto finishes—even gold plating as options in the prototypes section of our website. We're also experimenting with materials such as marble, granite, polished concrete, and colored epoxies with distressed planks to construct our horns and cabinets. Inlays, leather works, and fractal burning art are all on the table. I bet we can come up with a look for most any interior."
Classic Designs, Classic Brands Make their Return
While manufacturers such as Klipsch have always maintained its Heritage products within its line, other companies such as JBL and PSB Speakers have revived previous generation models.
Taking the next step beyond product revival, David Kelley, a long-time home audio executive took on the task to revive a classic brand—KLH Audio.
Today, KLH Audio offers a complete product line that includes contemporary products such as floorstanding loudspeakers, center-channel speakers, subwoofers, headphones, architectural speakers—and yes retro speaker designs such as the Model 3 and Model 5 products.
Kelley who serves as KLH Audio's CEO notes that when he revived the brand his long-term vision for the company was to not only develop products to meet the needs of today's consumers, but to also pay homage to the brand's history.
"KLH has a rich and storied history, so it was important to us to remind the industry of the significant role KLH played in the early days of Hi-Fi when Henry Kloss companies like KLH and Acoustic Research dominated the loudspeaker market," he admits.
Before he relaunched the brand Kelley recalls that he examined the home audio market and found there are high levels of interest in vintage equipment. Kelley in fact notes that vintage home audio gear has become a little cottage industry. He says his goal with KLH is to combine the classic look of the brand's legacy products, along with its acoustic suspension technology, while utilizing modern materials and engineering.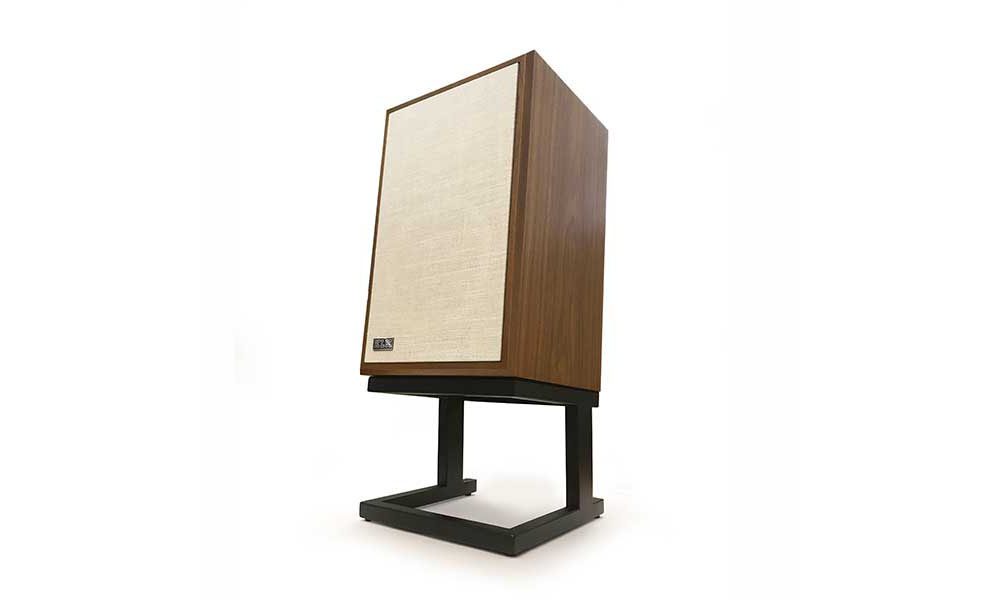 Discussing the company's retro speaker Model 3 and Model 5 products, Kelley states the speakers compare favorably to the classic KLH speakers of yesteryear.
"The basic design principles haven't changed much in 50 years. In our case, we build products around the acoustic suspension engineering principle, which is just as relevant a technology today, as it was then," comments Kelley.
"What has changed is the materials and engineering that go into the design. In that respect, we're literally lightyears ahead of where we were 50 years ago. While the fundamental design principle has not changed, our ability to optimize the design using modern modeling and measurement techniques ensure that we're able to quantifiably surpass the performance of the original products."
More news from CE Pro: 7 MicroLED Solutions for Next-Gen Home Theater
If you enjoyed this article and want to receive more valuable industry content like this, click here to sign up for our digital newsletters!