RBH Sound Announces 45th-Anniversary Speaker System
Celebrating its 45th anniversary, RBH Sound has announced its SVTRS Limited Edition Speaker System that employs three teardrop-shaped modules.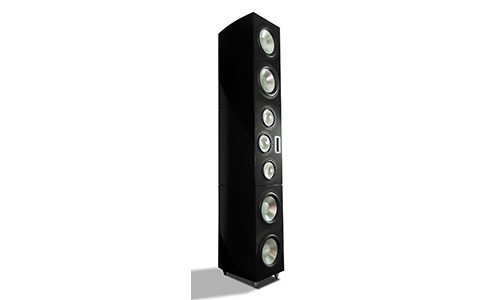 At the Florida Audio Expo in Tampa, RBH Sound introduced its 45th-anniversary SVTRS Limited Edition speaker system.
The newly announced anniversary system will be limited to 20 units, and the system will feature a pair of RBH Sound modular tower speakers, an RBH Sound 6a six-channel amplifier, and a Marani DSP speaker management processor.
In total, the 92-inch tall system employs three teardrop-shaped modules:
One SV-831R in between a pair of SV-1212NR subwoofers, which are situated as the base and top units of the SVTRS Limited Edition system.
RBH Sound points out at the heart of the SV-831R module is a trio of 8-inch proprietary aluminum-cone woofers and an Aurum Cantuus AMT tweeter.
The companion SV-1212NR subwoofer uses a pair of proprietary 12-inch long-throw aluminum cone woofers, and the system employs a mounting bracket assembly to ensure system stability once it is installed.
SVTRS Limited Edition Takes Pro Audio Approach to Home Audio
Conceived by the Utah-based company to deliver a "truly unparalleled reference-grade audio experience," the 6a amplifier provides six channels of Class D amplification. Configured to provide the tweeter with 250 watts of power, as well as 500 watts of power to the system's 8-inch woofers, and 1,500 watts to the systems 12-inch woofers, the system manages this power with a DSP-powered controller from Marani.
RBH Sound explains the use of the processor in conjunction with the amplification enables the speakers to operate efficiently without the aid of crossover components, which can "rob" speakers of power.
The processor features digital crossover networks with slopes up to 108dB/octave, and finite impulse filters to correct phase and frequency response errors.
Each SVTRS tower weighs 310 pounds, and the system is 94dB sensitive.
RBH Sound adds the system provides a frequency response of 17Hz to 35kHz +/-3dB, and it carries a suggested retail price of $44,995.95.