Parasound ZoneMaster 2350 Class D Amp Blends Best of Digital and Analog Audio
Rated at 350 watts per channel, Parasound ZoneMaster 2350 is a Class D stereo power amplifier that includes options to add subwoofers without requiring external crossovers.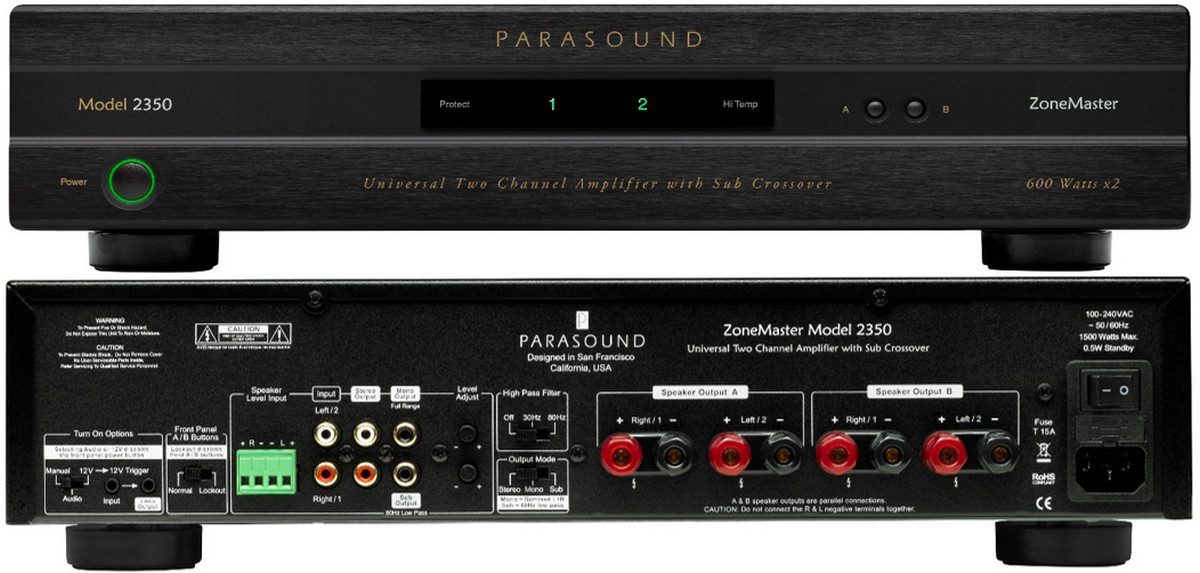 Parasound's versatile new ZoneMaster 2350 ($1,295 MSRP) is a two-channel Class D amplifier with a Subwoofer mode, allowing the system to drive multiple in-wall subs without the need for an external crossover.
Rated at 350 watts-per-channel into 8 Ohms (600 at 4 Ohms), the amp draws on Parasound's legacy of Class A/B designs, including high-resolution analog input stages and bass management.
"While this is probably my 38th new power amplifier introduction, I am especially excited about the ZoneMaster 2350 as something new and different for Parasound," notes Richard Schram, founder and president, Parasound Products, Inc.
"It has the high horsepower our industry has come to expect from good Class D," he adds, "and by marrying it with our industry leading analog input stage and unique connectivity options, we've created a remarkably rugged, maximum fidelity amp that can play at the redline all day. With bass management and versatile installation features, it is also a really practical choice for commercial systems."
Beyond the 2350's traditional audio performance, the amplifier includes a full selection of installer-friendly features, including separate line-level inputs, speaker-level inputs, A&B speakers, mono/stereo mode switch, 30Hz/80Hz high-pass filter for use with small speakers, stereo loop outputs, and a dedicated mono line output.
A two-channel analog 80Hz, 24dB/octave low-pass crossover enables the amp to drive one or more in-wall passive subwoofers without the need to add a separate crossover or other provisions.
Integrators can incorporate the ZoneMaster 2350 into their preferred control systems via audio-sensing or 12-volt triggers to fully complement whole-house A/V system installations.
More Parasound: Hands On: Parasound ZoneMaster 650 Brings Audiophile Sound to Whole-House Market
Parasound ZoneMaster 2350 – Features & Specs
350 watts x 2 @ 8 Ω
600 watts x 2 @ 4 Ω
2 Ω stable for driving multiple speaker pairs
Two pairs of speaker outputs with A/B buttons
Lockout switch on rear panel to disable A/B buttons
High pass filter, switchable for 30Hz or 80Hz
Automatic on/off by 12V trigger w/ looping output
Automatic on/off by audio signal
Speaker level input enables integration with systems lacking preamp output jacks
Parasound designed class AB input stage w/ premium Class D power stage
Subwoofer mode for driving multiple in-wall subs without the need for an external crossover
Mono mode combines L and R for single speaker applications
Mono full range preamp output
Subwoofer 80Hz, 24dB/oct. low pass preamp output
Looping left and right output jacks
Left and right input level controls
Efficient, low heat design
Short circuit and overload protection
0.5 watt standby power consumption meets EU and Energy Star requirements
2U rack mounting hardware is included in box