Clive Davis is known as the record industry's most innovative, outspoken and influential executive, having launched the careers of several household name musicians, including Whitney Houston, Bruce Springsteen, Barry Manilow, Patti Smith and Kenny G, while played key roles in the success of countless others. So, when he decided to build a guesthouse at his longtime vacation residence in Westchester County, New York, he wanted to install a home theater where he could entertain guests in style.
For years, a projector system in the theater did the job. Upon installation, it was among the most state-of-the-art technology on the market, but now that 4K is ubiquitous, the projector seemed antiquated. The lack of true, deep blacks, vivid color and sharp, high-contrast images made it difficult to see the screen in bright lighting conditions.
Over the years, the projector had also become unreliable. On several occasions, Davis had to enlist the help of his AV team, led by Ernie Wohlleben of Architechnology Designs, to fix the projector.
"Several things had to happen for the projector screen to come down, and it could take up to 20 minutes before he could start watching a movie," Wohlleben says. "This was extremely inconvenient when Mr. Davis was trying to entertain guests."
Samsung's The Wall Takes Center Stage
In the early days of LED, the technology was reserved for massive digital billboards, sports stadiums, event centers and the like. Then it became common among restaurants, retailers, hotels, cruise ships and casinos and eventually filtered down to small businesses. Now, LED screens are available for purchase at any neighborhood box store.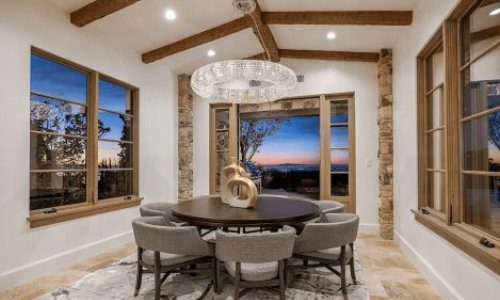 As a custom integrator, lighting is in demand. Effective communication, education and showcasing the value proposition of LED light fixtures in conjunction with integrative control systems are the keys to overcoming challenges and closing sales in this specialized market. Join us as we discuss the future of digital lighting and control with David Warfel from Light Can Help You and Patrick Laidlaw and Mark Moody from AiSPIRE.
Register Now! 
A music mogul like Clive Davis, however, needed a more substantial theater setup than an off-the-shelf TV. Davis wanted a theater upgrade that better reflected a life and career dedicated to entertainment — one where he could relax and watch a Yankees game or invite friends and family to screen the latest blockbuster movie.
Having worked with Architechnology Designs for quite some time, Davis entrusted the team to find an appropriate answer — something modern, aesthetically pleasing and easy to operate. As a trusted AV supplier to many executive and celebrity clients, it's Wohlleben's job to stay abreast of technological innovation, and he knew The Wall was the simple-yet-sophisticated solution that Davis needed.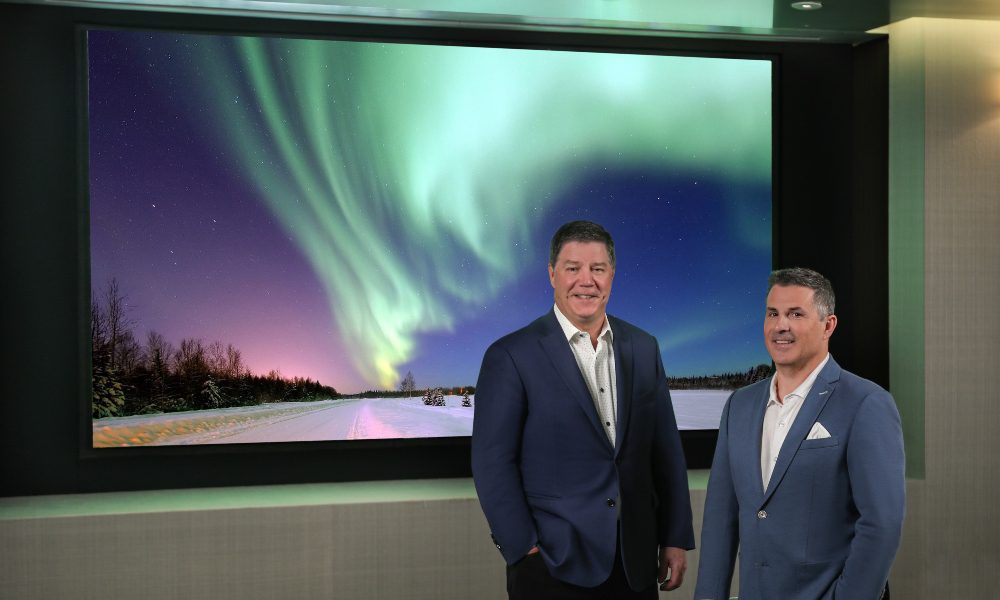 Working together with Samsung's installation teams, Architechnology got to work removing the projector and redesigning Davis's home theater to fit the new technology. Since The Wall can be manufactured in any size or shape configuration, it was able to fit exactly where the projector sat — minus the bulky fans and external operating systems.
The team also constructed custom niches for speakers to the left and right of the screen, completing the immersive viewing experience Davis was looking for. And, thanks to individual sections being mountable to a custom, Samsung-designed frame, the same feature that prevents any gaps in the picture also worked to help greatly simplify the installation process.
An Iconic Home Theater for an Icon of the Industry
As Wohlleben looked at other ways to improve the guesthome, he spotted an outdated 13-inch TV next to the kitchen. Not only was it small, but it was hard to see from the dining area. So, the team upgraded to Samsung's The Frame TV.
Now Davis uses it to display his art collection when guests aren't watching their favorite shows or concerts from the kitchen. They can also upload their own content, such as photos or videos, or view artwork from renowned museums via a subscription service.
However, The Wall remains the centerpiece. When guests enter the theater, eyes are immediately drawn to The Wall's sleek design and thin profile.
Its ultra-low-reflection Black Seal technology delivers unparalleled contrast and detail. It also boasts two times superior color purity and a wider color gamut than conventional LED displays. Optimum peak brightness and ultra-accurate grayscale expression solved the exterior light problem, providing a completely immersive, theater-grade experience for Davis' guests.
Most importantly, though, when it's time to watch a movie, concert or big game, guests don't have to wait for the projector to warm up.
All it takes is the touch of a button, and Davis is able to flip his home theater on and off instantly.
"I can't even remember the last time our team got a call at 9 p.m. on a Saturday night because he or his guests were unable to watch a movie — that used to be a regular thing," Wohlleben says.
"I use it every weekend," Davis says. "The results are spectacular: high definition, clarity and tremendous advantages over the system that was here before. On nights when I have a big party, people crowd in, and I've had as many as 80 people in the theater. I enjoy it thoroughly."
Could microLEDs be Replacing Projectors?
When microLEDs first hit the scene, the obvious application was to bring the technology to rooms with high ambient light. But the technology is slowly finding its way into dark, dedicated theater rooms, a trend that Harry Patz Jr., senior vice president and general manager for the Display Division at Samsung Electronics America, has taken notice of.
"With the customizable display options available today, there is no longer a one size fits all approach when it comes to defining an entertainment space," says Patz. "Samsung's The Wall provides a sophisticated centerpiece to luxury homes and businesses thanks to its state-of-the-art modular microLED display technology. It is an iconic piece of technology that is the perfect fit for an industry legend like Clive Davis."
That trend is why Samsung recently launched The Wall Residential, along with The Wall All in One, which comes as a defined SKU in either 110- or 146-inch 2K or 4K versions. Patz says The Wall's ability to products true blacks with 4K and 8K upscaling and a 120MHz refresh rate make it a premium product for watching movies and sports even in a darkened theater.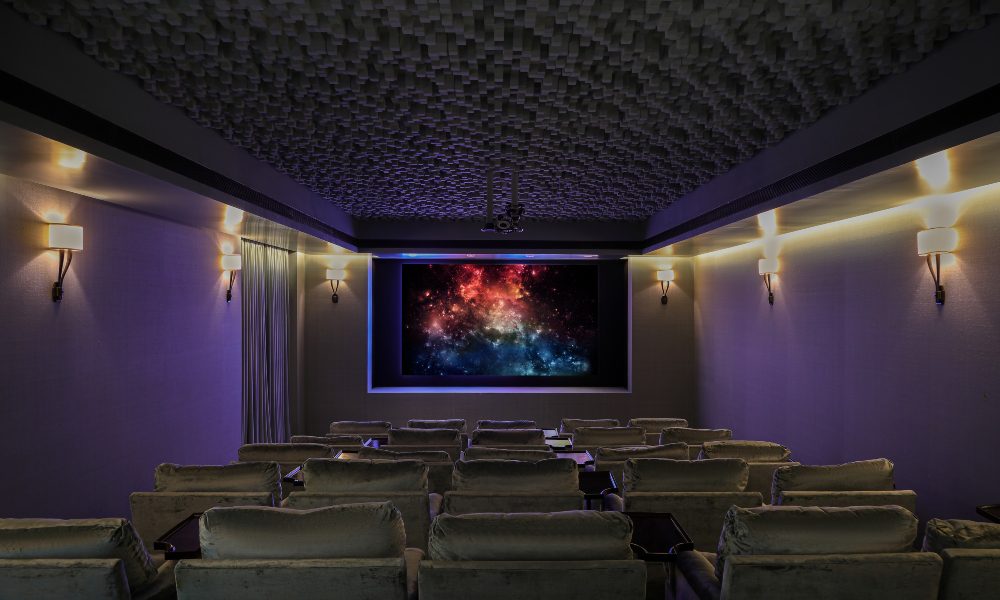 The Wall's ease of operation makes it an attractive solution to the luxury home LED market. For Davis, it provides the kind of customized, over-the-top experience his guests expect with an easy to navigate interface that allows him to easily turn the display on and off with the touch of a button.
"We're seeing some high-net-worth individuals who may not be the highest net worth individuals interested in it. We're also seeing it democratize down to replacements for LCD-based videowalls," says Patz.
He admits The Wall is more suitable for high-ambient light environments, but notes "sometimes when you build something, you don't totally know where it will go." He says Samsung is seeing manifestations of The Wall for clients who want to brighten a room for the winter, and other applications in control rooms and home studios.
"The power of the light to change the aesthetics of a given room or a given property is pretty exciting. Now we're scaling down a bit to hit a wider swath of the market and we're seeing so many wonderful use cases," he notes, adding that recently a celebrity sister that has a reality show purchased The Wall for her home, and then one of the other celebrity sisters immediately bought one for her home also.
"When folks buy it and see it, it proliferates. We're very excited and thankful for the custom installation channel, and look forward to having some massive growth in this business together," comments Patz.
Another version of this article appeared in CE Pro's December 2022 issue.
If you enjoyed this article and want to receive more valuable industry content like this, click here to sign up for our digital newsletters!